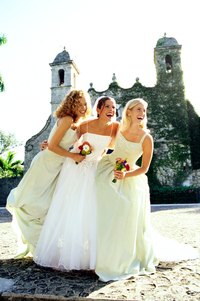 When shopping for a bridesmaid dress, you'll likely see many bad ones out there. Luckily, you'll also find good styles if you know what to look for. Choosing a bridesmaid dress that is pretty and timeless will benefit not only the bridesmaid, but also the bride. First of all, a classic dress can help the wedding photos look timeless for years to come. Secondly, dresses that won't go out of fashion can be worn over and over, a huge plus for women on a budget.
Empire Waist
High-waisted dresses, also known as empire silhouettes, are flattering on most figures and are perennial favorites for bridesmaids. They can be worn again after the wedding, especially with a few alterations, because empire dresses easily convert to cute party frocks when shortened. Just take the dress to a tailor to have the hemline shortened. Or, if you're handy with a needle and thread, do it yourself and save a few extra dollars.

Fitted Cocktail
Bridesmaid dresses don't necessarily need to be long. Today, you can find many different styles that are suitable for the wedding aisle that are shorter in length. There are, however, a few rules to follow. Knee length is fine, but a dress that is too much shorter can end up looking inappropriate. Also, stay away from plunging necklines. Opt for a strapless style with a sweetheart neckline. The dress should fit well, gently hugging your figure but not too tight.

Maxi Dress
Not all weddings are black-tie or semi-formal affairs. Many couples are exchanging their vows in outdoor settings, like on the beach, which has become an increasingly popular wedding location over the years. Bridesmaids in these situations should go a little lighter and opt for a strappy maxi dress. Maxi styles are airy and elegant and a suitable option for women who want to wear them again, since they look very bohemian. And since vintage clothes are always in style, a maxi bridesmaid dress will be, too.

Full-Skirted
If you want a dress with a little movement and that you can dance in at the reception, a bridesmaid dress with a full skirt can be a lot of fun. Full-skirted frocks are fitted in the bodice and have varying degrees of coverage on top: strapless, spaghetti straps, cap sleeves. A chic option that is very wedding-appropriate a is tea-length dress, meaning the hem hits somewhere between the knee and the ankle. The silhouette recalls the 1950's and has since become a classic.