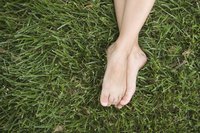 Comfort aside, you likely have that favorite pair of shoes you never want to take off. But wearing any shoe all the time can be harmful to your feet, and some shoes are more harmful than others. There's a right time to wear shoes and a right time to give your feet a break from them to avoid any medical issues, pain or discomfort. Discuss with your doctor the type of shoes you are wearing and the best options for you.
Too Tight
Wearing shoes that are too tight can put you at risk for hammertoe, heel pain or bunions -- not to mention general discomfort. Hammertoes, or deformed toes, are caused by the joints being bent out of shape, meaning that they curl instead of lying flat. Heel pain can occur at the front, back or bottom of the shoe and is a common danger when wearing too-tight shoes. A bunion, a bump at the base of the big toe on the side of the foot, occurs when the big toe is pushed out of position. Other dangers include corns or calluses, ingrown toenails and crossover toe. Well-fitting shoes protect feet from these conditions and reduce pressure on joints.
High Heels
A heel higher than 2 inches can make feet misaligned. Since the Achilles tendon shortens when your foot is in a high heel, wearing them all the time can cause Achilles tendonitis. Spike heels increase pressure on the ball of the foot. Wear them too often and you run the risk of developing an acute pain that can become chronic or stress fractures from the pressure. If you have to wear sky-high heels, wear them only for special events and change out of them as soon as you can to relieve the pressure on your feet.
Backless Sandals and Flats
Flip flops and backless sandals are meant to be worn on the beach or poolside only, as they provide zero arch support and virtually no protection for feet, making them prone to injuries. Try switching to a sandal with a strap in the back that will hold your foot inside the shoe, providing slightly more support and protection. Ballet flats generally lack the support and cushioning feet need from shoes and don't allow the feet to function as they should. They offer minimal protection and carry the risk of causing stress conditions from lack of support, such as tendonitis or plantar fasciitis. Wear ballet flats sparingly, or choose a flat with an actual sole and support on the part of the shoe that wraps around the heel.
Going Barefoot
Even shoes that are marketed for everyday use, "comfort shoes," should not be worn all of the time. While shoes provide protection for feet, especially outdoors, whenever possible it is beneficial to allow feet to breathe by taking off your shoes. The Guardian cites research published in 2007 in podiatry journal The Foot that suggests that "structural and functional changes" can occur when shoes are worn, as feet are constricted by a shoe's shape and size. Wearing any shoe 24/7 can put you at risk for deformation caused by a poor fit, ingrown toenails and athlete's foot.