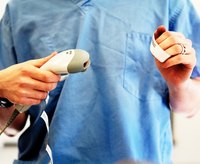 Radio-frequency identification tags store and wirelessly transfer data. Often used as an alternative to traditional barcodes, RFID tags provide data storage and communication in various contexts, including retail and industry. RFID printers produce RFID tags. An RFID tag can communicate stored data using either an electromagnetic field or radio waves. Many industries use RFID printing to produce RFID tags for such purposes as identification and tracking. RFID printers engage in the dual processes of printing and encoding.
RFID Technology
RFID technology dates back to the first half of the 20th century. Initially used in aircraft, the technology was later adapted for use in manufacturing and other industries. A typical RFID setup involves a chip and antenna, via which data is stored and transmitted. In some cases, for example where the data is transmitted over longer distances, an RFID chip may use a power source such as a battery.
Tags
RFID tags can be passive or active. Passive tags can receive and read data. Active tags can both send and receive. The printing process for an RFID tag involves traditional printing, in the sense that visual information is printed for display, often including a barcode and readable characters. However, RFID printing also requires data to be written to the electronic chip within an RFID tag, as part of an encoding process. RFID tags offer certain advantages over barcodes. Unlike barcodes, RFID tags do not need to be scanned within a particular line of sight.
Printing
RFID printers both encode and print data to RFID tags. RFID printers are sometimes referred to as printer-encoders for this reason, as the printing aspect is only one part of the process. The encoder in an RFID printer writes an item of data to the RFID chip. Often this data will be an identifying number, such as an Electronic Product Code. In many cases, the RFID printer will also write information to the exterior of the tag, with a label representing the data stored on the tag visually. Essentially, an RFID printer prints and encodes tags in such a way that they can then receive and transmit this data as part of an RFID system.
Usage
RFID printers provide tag printing and encoding for a wide variety of uses. Stock management is among the most common applications, from retail to the manufacturing industry. Rather than manually scanning barcodes for each inventory item, businesses can remotely track items that have RFID tags embedded in them. Some countries include RFID tags in their passports and other identity cards, as do certain organizations. Animals such as pets and farm livestock sometimes also have RFID tags implanted in them for tracking purposes, which can be particularly useful when pets go missing. Experimental projects have also explored implanting RFID tags in humans, although this use is still controversial.