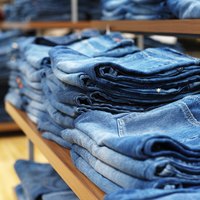 Choosing a pair of jeans can be a daunting task in the best of circumstances. Deciphering the multitude of cuts sold by Wrangler, especially when shopping online, can be especially tough. When shopping for a pair of Wrangler jeans, you need a basic understanding of the company's collections as well as how various styles will look on your body type.
Making the Cut
Wrangler has a large selection of blue jeans in various cuts within several collections. Although each of the company's cuts are unique to reflect the personal style of each wearer, all of Wrangler's collections use basic dimension and style guidelines. While there are some variations that break away from the basic patterns, the surest way to make an appropriate blue jean purchase is to measure rise -- the waistline -- against the fit and style of the seat, crotch and legs.
Rise
Like most other blue jean companies, Wrangler jeans are made with three distinct rise levels, or waistlines: low-rise, midrise and natural. Discerning which rise works best for your body type can help you find the right pair of Wrangler jeans. How well you fill out the seat of your jeans will affect the appearance of each rise height. Those with smaller gluteus muscles may find that a low-rise jean will help prevent sagging and excessive crotch space. Those with a little more in the back seat may find that a mid- to high-rise jean provides a more comfortable and flattering look.
Low-rise jeans button several inches below the navel, hug the hip and have a shorter crotch. Midrise jeans button just below the navel, rise just above the hip and have a longer crotch. Natural-rise jeans button at or above the navel area, hug the waist and have a roomier crotch area.
Loose and Relaxed Fit
Loose-fit Wrangler jean uses a wider inseam than other styles. A wider inseam provides less constriction for the wearer and less body-to-denim friction. While a loose fit provides more space in the leg and crotch areas, it does not necessarily provide a loose fit in the seat. Loose-fit jeans are often designed with a mid- to natural rise.
Relaxed-fit Wranger jeans are similar to the loose fit in that they offer less constriction than many styles. However, relaxed fit jeans lean toward a straight leg line, loose seat and medium-length, flat crotch. The relaxed style is often designed with a mid- to low rise.
Original and Slim Fit
Original-fit Wrangler jeans follow a decades-old pattern. Original jeans tend to have a long crotch, moderately loose inseam and tapered ankle. Many of the Original-fit jeans designed by Wrangler have a natural rise that buttons at or above the naval.
Slim-fit Wrangler jeans are perhaps one of the company's most recognizable styles. Slim-fit jeans give you more variety because they can can be cut to several different styles and still fit well. A slim fit tends to hug the legs and seat, and does not usually have a tapered ankle. Because slim jeans tend to cling to the wearer, the waist is a little more versatile and does not always require a belt. Low, mid- and original rises are all used in the design of Wrangler's slim-fitting jeans.