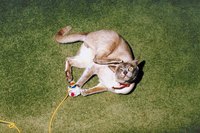 The old adage, "you are what you eat," may not be too far off when it comes to feline skin and coat health. When nutritional imbalance is to blame for your cat's dull, flaky, dry skin, your veterinarian may prescribe vitamins and dietary supplements to help correct her internal imbalance.
To Supplement or not to Supplement?
A high quality, nutritionally balanced food should supply your cat with the proper amount of vitamins and minerals. Look for foods with ingredients that include vitamin E, vitamin A, carrots (a natural source of beta carotene), flax seed or fish oil (good sources of omega 3 fatty acids), animal-based protein such as eggs or chicken for omega 6 fatty acids and prebiotics like chicory root or beet pulp). However, despite her nutritionally balanced diet, kitty still may experience skin and coat problems. In these cases veterinarians often turn to vitamin supplementation. It is important to use vitamins under veterinary supervision; over supplementation can lead to serious health problems for kitty.
B Vitamins
The B complex vitamins are water soluble, which means they mostly are destroyed during the heat of the cooking process; cats on home-prepared diets will almost always need extra B complex vitamins. One of the most important vitamins in this group is vitamin B-1 (or thiamine). Thiamine promotes muscle, cellular and nerve function. Vitamins B-5 and biotin are essential for skin and hair health -- vitamin B-5 also reduces inflammation and can help fight allergies and infection.
Vitamin E
Vitamin E is essential in boosting the feline immune system and healing the skin. A cat can incur a vitamin E deficiency if she ingests food containing large amount of unsaturated fats to which antioxidants are not added. Foods like these go rancid quickly subsequently destroying important vitamin E that oxygenates kitty's blood. In order for a cat to properly absorb supplemental vitamin E, she will need to take it with fat-containing food; no empty stomachs here. Vitamin E is a fat-soluble vitamin, so it needs accompanying fat to latch onto and adequately enter the feline body.
Vitamin A
Vitamin A is not only important for vision; it helps regulate cell membranes. It produces skin and hair cell turnover, allowing inflamed, damaged cells to move aside while new healthy cells replace them. This tissue-repairing vitamin is found naturally in organs such as the liver and kidney, but take caution if choosing the natural route. Felines who eat too much raw liver can develop hypervitaminosis A, which can dull her coat and lead to lameness. Vitamin A supplements are a likely choice if kitty is deficient, but always consult your veterinarian before beginning any supplement.