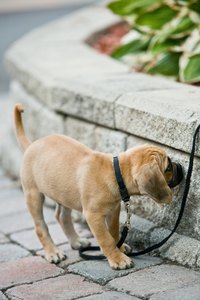 For a male dog, peeing is a dual-function activity. He is simultaneously emptying his bladder and leaving a calling card for other dogs. The urine contains scent that your dog wants others to smell. Once a dog is sexually mature, he typically has the instinct to urinate at a height where other dogs are likely to pick up the scent. But if your dog squats to pee, there are various reasons why and it's not necessarily a cause for alarm.
Age
Cocking the leg to pee is an informal "coming of age" for many male dogs and is a sign that they are approaching sexual maturity. It's normal for a young male puppy to squat to pee until the pheromones in his urine tell him it's time to spread that scent far and high.
Preference
Although cocking the leg is common, it's not universal and some dogs simply do not have the urge to do it. If a male dog never cocks his leg to pee, it's not a cause for concern at all. However, if your dog suddenly stops cocking his leg to pee and will only squat, then you should take him to the vet.
Discomfort
As dogs get older, their joints can begin to ache a little, especially if they are suffering from arthritis. To pee high, they need to bear all of their weight on three legs. This can be very uncomfortable for a dog suffering with joint pain and he may simply decide it isn't worth the hassle. If your young male dog suddenly starts squatting instead of cocking, it may be that he has an injury that is causing the discomfort. If you're concerned about your dog's change in behavior, take him to the vet.
Incontinence
The whole point of cocking is that the dog leaves his scent for other dogs, so it's natural for a dog to hold off until he finds a suitable tree or lamppost to splash his pee against. Incontinence, whether related to bladder disease, kidney disease or simple old age, can mean that a dog just doesn't have time to cock his leg. When he needs to go he needs to go and there's no time to wait to find that tree.