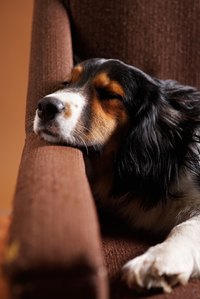 Some dog trainers, including the Monks of New Skete, recommend the radio to soothe dogs suffering from separation anxiety. Try playing the radio as one part of a soothing strategy. Talk to neighbors or observe your dog's behavior when you return, then decide if it's effective for your pup.
Benefits
If you normally relax to the radio, leaving it on while you're away can provide stability for your dog. Try turning on the radio a half hour before you leave, then leave it on while you're gone. Radio also drowns out some outside noise that can distract dogs, such as barking dogs, yelling children or traffic. If your dog situates himself near the radio when you're gone or seems attuned to it when you're home, he's probably enjoying the sounds.
Radio Training Puppies
Radio offers a convenient, low-cost way to socialize puppies. The Monks of New Skete play talk radio to litters of puppies to expose them to a range of voices. If you plan to expose your dog to children, playing children's radio can get your dog accustomed to the sounds of kids.
Type
Radio can be unpredictable and loud; unsettling music can agitate a sensitive dog. Talk stations can work very well since they mimic human conversations, but call-in stations that feature angry debate may upset your dog. Classical stations can be soothing if the music is slow and gentle; the "1812 Overture," for example, wouldn't be very relaxing for your pet. You may choose a CD or prepare a playlist for your pet to control the sounds he hears while you are gone.
Considerations
While radio can soothe separation anxiety, it isn't intended as a cure-all. Consider obedience training to provide structure for your dog. Just before you leave, provide your dog with a tasty treat, such as a filled Kong. Use baby gates to restrict your dog to one or two rooms, especially if neighbors complain about barking.