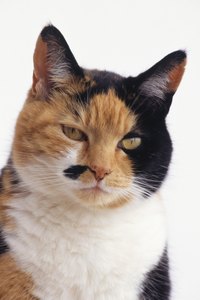 Spaying a cat is a straightforward surgery with a simple goal: to prevent her from going into heat and becoming pregnant. With feline overpopulation rampant in neighborhoods and cities all over the world, spaying is important to the well-being of cats and to their ability to live well with humans.
Spaying Surgery in Cats
When a veterinarian performs a spay operation on a cat, she makes an incision either on the anesthetized kitty's abdomen or on her side. Through the small surgical opening, the veterinarian removes the cat's uterus, fallopian tubes and ovaries.
Finishing the Surgery
After removing the cat's reproductive organs, the vet ties off severed blood vessels and securely seals off the surgical cut, using either medical glue or sutures. The kitty will generally awaken from the anesthesia in about an hour. Veterinary staff will monitor her for any indications of negative effects from the procedure. If there are none, the kitty can usually go home the same day.
The Recovery
Spaying is an invasive surgery, and proper recovery is important. Greatly reduced physical activity is important during recovery. Vigorous physical activity, such as jumping and running around, may cause the sutures to open up, so it's crucial to keep your cat as restful as possible. Be sure to heed all of the veterinarian's advice for post-operative care.
Effects of Spaying
A spayed female cat no longer can have kittens. The meowing or yowling of the "estrus" or "heat" cycles are gone. Few female cats mark by spraying urine indoors, but if your cat did, the behavior may end after she's been spayed, unless it had gone on long enough to be an ingrained habit. She also probably won't be as interested in going outdoors to look for tomcats. In many cases, spaying surgery completely ends hormonal heat behaviors, especially if your kitty is young when you have her spayed.
Health Effects
Apart from the effects on reproduction and behavior, spaying can be beneficial for your cat's health. Spayed female cats can't get uterine or ovarian cancer, and breast cancer risk also is reduced.