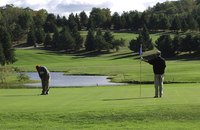 Zoysiagrass (Zoysia spp.), a warm-season lawn grass, is well-suited to Alabama's long, hot summers. It grows in U.S. Department of Agriculture plant hardiness zones 5 through 10 and does well in all areas of Alabama. It spreads by stolons and rhizomes and has stiff, upright blades that vary in thickness, depending on species and cultivar. Generally slow-growing, the fastest way to establish a zoysiagrass lawn is through sod or plugs. Zoysiagrass grows vigorously when temperatures remain between 80 and 95 degrees Fahrenheit and turns pale yellow during its winter dormancy, which occurs after the first frost in fall.
Uses
Zoysiagrass forms a dense, carpetlike lawn that stands up well to foot traffic. It is often used for lawns, parks and golf courses and occasionally athletic fields. Zoysiagrass is often used in transition zones that are too warm for cool-weather grasses such as fescue (Festuca spp.), which grows in USDA zones 3 through 7, but too cold for Bermuda grass (Cynodon dactylon), which grows in USDA zones 7 through 10. Take care when growing zoysiagrass near cool-weather grasses as it tends to invade other lawns. It is drought-tolerant and does well in sunny, southern or southwestern exposures where fescue cannot survive. It has good salt tolerance and grows well in Alabama's sandy coastal soils.
Varieties
All zoysiagrass cultivars are derived from three principal species: Japanese or Korean lawngrass (Zoysia japonica), Manilagrass (Zoysia matrella) and Mascarenegrass (Zoysia tenuifolia). "Meyer" zoysiagrass is a cold-hardy cultivar that does well in northern Alabama. "Meyer" has a medium blade thickness and deep green color. Developed in California, "El Toro" zoysiagrass resembles "Meyer" but is faster growing and has improved resistance to rust diseases. "Emerald" zoysiagrass is a hybrid of Manilagrass and Mascarenegrass that has a vivid green color and fine-textured blade. It is relatively fast-growing and more shade-tolerant than "Meyer."
Cultural Requirements
Zoysiagrass adapts well to different soil types, as long as the soil is well-draining. It prefers full sun to part shade, although growth will be sparser in shady areas. Zoysiagrass becomes dormant during drought, but revives again when rain returns. It requires about 1 inch of water weekly to remain green and growing in hot, dry weather. Although fertilizer applications should be based on a soil test, zoysiagrass generally requires several applications of nitrogen-containing fertilizer such as 16-4-8, 13-13-13 or 10-10-10. Alabama Cooperative Extension System recommends applying 1 pound of actual nitrogen per 1,000 square feet in April, June and August. Zoysiagrass should be de-thatched at least once every two or three years.
Pests and Diseases
Vigorous, healthy zoysiagrass generally chokes out weeds and is resistant to pests and diseases. The hunting billbug (Sphenophorus venatus vestitus) is a common pest that attacks the roots of zoysiagrass, creating yellow or brown patches in the lawn. For lawns with a history of hunting billbugs, insecticides such as bifenthrin, deltamethrin, lambda-cyhalothrin or imidacloprid should be applied in early spring to control emerging adults. Brown patch, dollar spot and rust are generally controlled through proper fertilization and maintenance, but fungicides may be required for extreme cases. Fungicides and insecticides should always be applied according to package instructions.