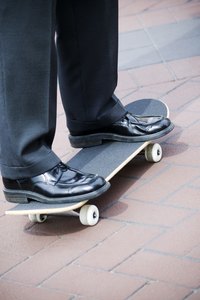 You're finally starting life as a college student and preparing for your first coat-and-tie mixer. But you have no idea what to wear. Like many college students, you graduated high school without a clue about dressing like an adult. Or, worse, you have the right suit but your shoes look like deflated footballs. Although young men sometimes believe that there are special fashion rules for college-appropriate dress shoes, the truth is that men are expected to look polished and successful regardless of age.
Save Money
One of the most important life lessons you can learn about purchasing a good pair of dress shoes is that it will cost you money -- sometimes a lot of money. The best course to take is to save as much money as you can and put it toward a pair of quality shoes that will last you well through your college years and, hopefully, several years after that. Cheap, generic shoes tend to fall apart quickly and are easily identified as low-quality by even the untrained eye. One pair of good shoes could mean the difference between getting a high-profile internship or spending your summer mowing lawns. In, "The GQ Guide to Men's Shoes" the men's fashion magazine editors suggest that no-frill, black-leather, round-toe lace-ups are both tasteful and versatile.
Calvin Klein
Calvin Klein (www.calvinklein.com) offers several options made of quality materials that provide the kind of versatility needed by college students. Typically marked between $140 and $160 at the online store, the brand's selection offers an affordability that many college students desperately need. The timeless, streamlined design of Calvin Klein footwear makes it an appropriate choice for most occasions. From a university-sponsored mixer to an off-campus night out, these shoes can help add a flare of sophistication and maturity to your wardrobe.
Hugo Boss
Hugo Boss (store-us.hugoboss.com) is well known throughout the fashion community for its shoes. The brand boasts one of the largest collections in the industry, and a wide selection of quality-crafted shoes. Prices tend to range between $200 and $400 for a no-frill black leather lace-up. When choosing a pair of Hugo Boss shoes, take care to review all of the options within your price range. Carefully consider the pros and cons of patent versus embossed leather. You're hoping to wear this shoe for a long time, so make sure that it's a pair that you will still like in five years.
Prada
Although Prada (www.prada.com) is a high-end luxury brand, it does offer no-frills, black-leather, lace-up dress shoes. Most college students wouldn't dare to even dream about owning a pair of Prada shoes, but the reality is that they can. Prices usually run between $500 and $700 for simple, extremely high-quality shoes. Of course, a purchase of this magnitude may seem too extravagant for a full-time student's budget, but cutting back on dining out and nightlife will allow you to save enough for these shoes. Whether you wear them on campus or in the office, Prada dress shoes are the type of wardrobe detail that say, "I may be in college, but I am one classy man."