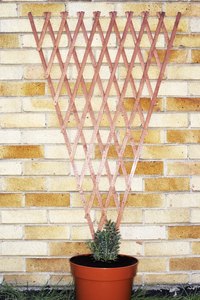 An heirloom climbing summer squash, zucchetta rampicante (Cucurbita moschata "Tromba d'Albenga"), also called tromboncino, zucchini rampicante or zucchino rampicante, is closely related to other summer squash (Cucurbita pepo), such as zucchini and yellow crookneck, but is firmer and nuttier. These prolific producers sport fruits up to 36 inches long that curl in upon themselves if allowed to sprawl on the ground. When trellised, the fruits develop long and straight. Like other summer squash, zucchini rampicante prefers full sun in rich, well-drained soil with a pH 5.8 and 6.8 and does not tolerate frost. Grown both in either in containers or in the garden with a trellis, it produces up to 20 fruits per plant.
Container Size
Zucchini rampicante requires a draining container large enough to provide room for its root system, as well as a support a trellis. Choose a container with a diameter of 24 inches or more and a depth of 24 inches. As a rule, containers with a wide, flat base work best when growing large plants as they resist tipping in the wind. Tucking the container into a sunny corner or against a south-facing wall offers added support.
Soil
A mixture of 1 part peat moss, 1 part perlite and 1 part potting soil makes a lightweight soil that resists compacting. It also promotes draining and provides proper aeration for growing roots. Adding a generous amount of compost or well-rotted manure to the mixture provides additional organic matter and slow-release nutrients to your growing plants. You can add a balanced fertilizer to the mix.
Trellis
You need a sturdy trellis is necessary when growing zucchini rampicante as the lengthy vines and abundant fruit get heavy. A 6- to 10-foot trellis, securely anchored, provides the support this plant needs. Because the container may not support the weight of the trellis and the growing plants, anchoring the trellis to a garden wall, or the side of a building, and tucking the container against the trellis works well. You can also anchor the trellis into the soil behind the container.
Harvesting
Harvest young fruit as soon as it is large enough to eat. Picking the fruit when it is young and tender encourages the plant to produce more fruit, prolonging the harvest season. Some enjoy allowing zucchini rampicante to grow for the novelty of growing a 3-foot squash.