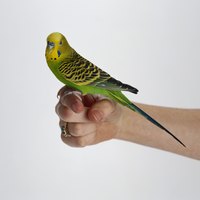 To each bird her own? Not necessarily when it comes to bird seed and fresh foods. Finches and parakeets enjoy many of the same natural foods, which means the species can share a menu. To avoid fights over the dinner bowl, you'll want to offer each bird her own dish.
Significance
Good news for bird lovers on a budget or those who simply ran out of parakeet food: parakeets and finches can chow down on the same types of bird food. Choose a commercial food prepared for either parakeets or finches as the base of your pet's diet. Supplement as needed with yummy treats, including seeds and fresh fruit, and always offer your bird fresh water.
Seed Types
If you prefer to mix your own seed for pet birds, try these recommended widely available seeds for finches or parakeets: red millet, yellow millet, proso millet, Japanese millet, niger or thistle seed, hemp seed and canary grass seed. You may also feed less common seeds including sesame, rapeseed, flax, anise and poppy seed. Parakeets and finches enjoy sunflower seeds, but these are high in fat, so feed sparingly to keep your bird from becoming overweight.
Fresh Foods
Supplement a seed diet with fresh foods suitable for these birds. Greens like spinach, kale, lettuce and beet greens offer vitamins and minerals. Wash greens well and place in your bird's bowl. For something sweeter, try apple slices with the seeds removed, corn and fresh grapes.
Pellets
Specially formulated bird pellets combine the right minerals for your pet in appropriate amounts. This cuts down on the work of mixing seeds and fresh produce. If you have a fussy eater, this reduces the waste from uneaten foods and prevents a bird from eating only the treats she most enjoys. Look for pellets that are formulated for parakeets or finches. Mix pellets with her current food, then cut down on other food and offer more pellets as your bird begins to eat them.