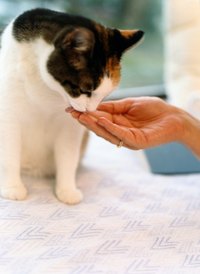 If you've looked at the label of Mittens' cat food recently, your head may be swimming from the list of ingredients. Easily recognized ingredients such as chicken or beef may be listed, but chances are you also find less familiar terms, such as "chicken meal" and "poultry by-products." Poultry by-product and chicken meal are very different things.
Poultry By-Product
Poultry by-products are often used in pet food because they are a cost-effective way to provide protein content. It's natural to think of it as all the unused parts of a dressed chicken, such as necks, feet, undeveloped eggs and intestines, but poultry by-product doesn't have to be chicken; it can be the leftover parts of any domesticated fowl.
Chicken Meal
Chicken meal is basically ground chicken. There are no by-products in chicken meal; it's clean flesh and skin from part or all of a chicken. Bone may be included, but not feathers, heads, entrails or other leftover parts. Chicken meal is a dry material that is processed into cat kibble for Mittens' enjoyment.
Not Necessarily Bad
Poultry by-product and chicken meal can be safe ingredients in pet food. You may find by-products unappealing, but Mittens is a different story. If she hunts and eats prey, she's not nit-picking about the organs; she's probably eating most of the mouse. Cats are carnivores, and they don't worry about whether they're eating what we call by-products. In fact, many of the nutrients in poultry by-products, such as the liver and kidneys, are great sources of protein for Mittens.
Safe for Mittens?
Instead of worrying about whether the food Mittens is eating contains ground livers and feet, think about the animal it came from. The health of the animals used in pet food can be subject to debate. According to the Food and Drug Administration, there's nothing illegal about pet food manufacturers using animals that have "died otherwise than by slaughter." In other words, any of the animal protein sources could be from unused carcasses, whether they're the remains of animals processed for our own suppers, or those that died from disease or other causes.
Choosing a Food
If you're concerned about what Mittens is eating, the first thing to do is discuss her current health with your vet. If she has any special needs or restrictions, that will guide your food choices. If there's nothing in particular you need to watch out for, then it's time to do some research and learn to read pet food labels. Pet food companies have guidelines and requirements about how they can label their food.