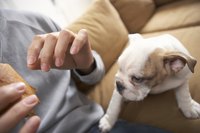 When putting together your wee puppy's daily meal plans, never assume that her dietary needs are anything like those of an adult dog. Puppies are rapid growing bundles of pure energy, and because of that require more frequent feedings than their fully mature counterparts, especially during the first few months of their lives.
Three Meals a Day
Puppies typically require three daily meals from the point they're weaned up until they reach the 6-month old mark, according to the Merck Veterinary Manual. Since puppies generally totally stop taking in their mothers' milk once they're roughly 7 weeks old, this means that they need to eat 3 meals a day for a period of just over 4 months or so.
Two Times a Day
Once a puppy is 6 months old, you can slightly minimize his daily feedings to twice a day instead of three times a day. You can continue feeding your little one two meals per day until he gets to a full year old, which is when he needs to start eating commercial foods formulated for adult dogs, rather than those designated for tiny puppies.
Once a Day
By the time your puppy is a year old, his body is well on its way to adulthood. At this time, a single meal per day may be appropriate for your pup, notes the ASPCA. However, bigger dogs may thrive on two small portions a day rather than just one big meal. Because of these types of factors, it's always important to consult your veterinarian while establishing a diet plan, whether it's for a puppy, adult or "in-betweener." All dogs are of different sizes and health backgrounds, and some may do better on more or less frequent feedings.
Treats
Outside of basic meals, occasional healthy, pooch-friendly treats are safe for puppies. Just make sure that your puppy doesn't consume over 5 percent of his everyday nourishment in treats, urges the ASPCA. Moderation is of the essence. If you are ever uncertain about the safety or nutrition of a food, do not allow your puppy to eat it until you speak to a veterinarian.