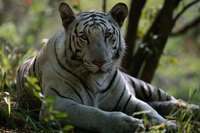 The Southeast Asia country of Myanmar is more familiarly known as Burma. The ruling military junta renamed the nation in 1989, but not all countries have accepted the change. Even though Myanmar is filled with beaches, temples and wildlife, the tourism industry is largely undeveloped, due to the government's turbulent political history. The Hotels and Tourism Law was enacted in 1990, but more than a decade lapsed before the military junta started encouraging visits by foreign nationals. Myanmar's three zoos are worth a visit to see the country's native wildlife, including a number of endangered species.
Threats to Myanmar's Wildlife
Myanmar is host to about 1,300 species of animals, nearly 100 of which are endangered. The densely wooded country contains about half the remaining closed-canopy forest in all of mainland Southeast Asia. Though Burma has more than a dozen national parks and wildlife sanctuaries, illegal poaching, logging and other methods of rapid deforestation threaten native species and their habitats. Many of those animals, including the Bengal tiger, Asian elephant, red panda, estuarine crocodile and clouded leopard can be found in the country's three zoological gardens. But lack of funding for animal welfare has caused many of the zoo's inhabitants to suffer neglect and deteriorating conditions, while a lucrative trade in endangered-animal parts continues to threaten wild populations.
Yangon Zoological Gardens
Established in 1901, the Yangon Zoological Gardens is the oldest zoo in Myanmar and the second-largest, covering nearly 70 acres. Located in downtown Yangon, the zoo is home to more than 130 types of animals. Many of Myanmar's native species, including Bengal tigers, hornbills, Asian elephants, clouded leopards and marsh crocodiles, can be found in the zoo's enclosures. The zoo also includes an amusement park and an aquarium, and its premises are filled with many of Southeast Asia's native plants, including bamboo, palms and seasonal flowers. Myanmar's three zoos were privatized in 2011 after the government leased them to the Htoo Group of Companies, which has done little to bolster the exhibits, according to local media reports. But while the zoo is host to hundreds of majestic animals, its facilities are lacking; cramped cages and a black market trade for the body parts of endangered animals have taken a toll on the once-vibrant park.
Naypyidaw Zoological Gardens
The Naypyidaw Zoological Gardens, located in central Myanmar, is the newest and largest zoo in the country. At the time it was established in 2008, it held 420 animals, many of which were moved from the Yangon Zoo. Myanmar's new capital lies about 186 miles north of the previous capital, Yangon. The new zoo hosts a range of animals, including white Bengal tigers, wallabies and penguins. It also includes a safari park, which opened in 2011, and a planetarium, which opened in 2009 and charges its own admission fee. In 2012, the zoo added Myanmar's first sea lions, which were acquired under an animal exchange program from China.
Yadanabon Zoological Gardens
The Yadanabon Zoo, in the city of Mandalay, was established in 1989 and houses more than 300 animals, including leopards, tigers and elephants. It is also home to the only captive Burmese roofed turtles in the world. In 2006, conservationists built a breeding facility in the zoo and added 16 hatchlings. From the 1930s until the early 2000s, there had not been a single reported sighting of a Burmese roofed turtle, considered among the most endangered species of turtles. The Yadanabon Zoo also runs a breeding program for the critically endangered Burmese star tortoise. The zoo is located northwest of the city center, next to Mandalay Hill.
Special Considerations
Many of Myanmar's tourist attractions have entrance fees that are higher for foreign visitors. In 2008, admission to the Naypyidaw Zoo was about $10 for foreigners and $1 for citizens of Myanmar. Tourists carrying cameras may be charged a fee to bring them onto the premises. If you plan to visit Myanmar, bring enough cash to cover the expenses of your entire trip, since there are no ATM machines and traveler's checks and credit cards are not accepted. Photographing or videotaping the military, police or government infrastructures is strictly prohibited; violating these rules could land you in jail or you could be deported.