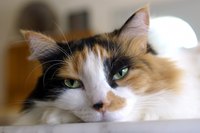 If you're hesitating to have your cat neutered, don't buy into myths about the procedure. Your cat won't become depressed, and he won't hold it against you. In fact, he'll almost certainly live a calmer, happier life. Indeed, he may gain a bit of weight -- it's an indirect response to being neutered -- but it's nothing you can't prevent with a lifestyle change or two.
Cat Roaming Behavior
Cats like to explore. If your intact male cat has access to the great outdoors, he's exploring more than you may realize. A non-neutered cat exhibits what is generally referred to as "roaming behavior," which is when he scours the neighborhood in search of a mate. Of course, that isn't all he does out there -- cats also love to hunt small game like birds and rabbits -- but he can burn up a lot of energy just trying to find a female companion.
Post-Neuter Laziness
When your cat is neutered, his biological impulse to roam around looking for a mate will diminish, gradually or soon after surgery He'll exercise less. And just like anyone else quitting their exercise regimen without changing their diet, it may show in his gut. A neutered cat is generally more docile; aside from his usual hunting activities, he's probably going to be more of a homebody than he was before the procedure. It isn't because he's depressed -- he just doesn't have raging hormones compelling him to wander all over town.
Growing Old
Depending on how old your cat is when you have him neutered, simple coincidence may make it seem as though normal weight gain is related to the operation. A young cat who is neutered still loves to play, climb, hunt and race around; the procedure doesn't change that. As any cat grows older, though -- whether or not he's neutered -- he's liable to lose some of that youthful vigor; he'll sleep more and gain a bit of weight.
Fighting Weight Gain
If you're concerned about your cat's post-neuter weight, ask your vet about dietary changes to discourage weight gain. Simply giving him fewer calories can make up for a drop in activity. Also, make an effort to engage your cat in play time. Cats aren't always motivated to entertain themselves, but that doesn't make them lazy. If you play with your cat, it helps him burn off energy, reducing risk of packing on excess weight.