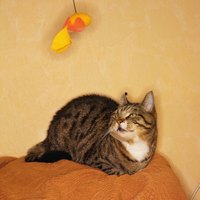 If Pebbles pounces on your shoelaces every time you walk by her, she clearly wants to play. Engaging in a gentle game of tug-of-war helps her get out some of her pent-up energy and keeps you completely entertained. While tug-of-war is probably an OK game to play with the cat, it can be dangerous if the game gets out of hand or if you use the wrong types of toys.
How to Play
Pick up a piece of yarn, Pebbles' favorite wand or a long feather toy. Just avoid anything that stretches -- after all, you don't want to let go and have the toy smack her between the eyes. Wiggle the toy in front of the cat until she takes a nibble and gentle tug at it. If she's in the mood for tug-of-war, she'll chomp down on the toy and pull back, trying to get it away from you. After several seconds, slowly let go. Likely, she'll drop the toy. Do it over again. Intrigue her by playing several short games of tug-of-war with a variety of toys rather than pulling at the same toy for an extended period of time.
When to Stop
Pebbles shouldn't be growling, hissing, nipping or swatting at your hand during your game of tug-of-war. These signs of aggression let you know she is over-stimulated. She needs a few moments to cool down. Stop immediately and let her relax for a few minutes. When she settles down, pick up the toy and go back to playing. If she continues to exhibit aggressive behavior, tug-of-war may not be an ideal game to play with her.
Dangers
If Pebbles starts playing too rough, stop your tug-of-war session immediately. Felines have fragile teeth; if yours tugs at her toy too hard, she could break or even pull out a tooth. Watch for blood, drooling or pawing at her face after your play session. These are signs something in her mouth is awry. In addition, if you're playing with a string, put it away in a safe spot once you're done playing. String can be a choking hazard if Pebbles decides to chomp on it on her own.
Other Games
As soon as Pebbles starts getting bored with tug-of-war -- or if it makes her act a little mean -- play fetch with her instead, just like you would with Fido. Toss Pebbles' mouse toy across the room, giving her the opportunity to pounce on it and then encourage her to bring it back to you. Not all cats understand the game of fetch or care to play. Cats love to hunt, though, so you may pique your cat's interest by wiggling her feathery wand toy on the floor right next to the sofa. When she makes her move, quickly shake it in a new spot. Her natural hunting instincts will kick in, making her want to catch this prey.