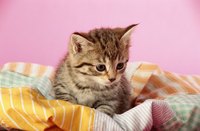 Known for its ability to attract curious kitties, the catnip plant is perfectly safe for our feline friends to nibble on and sniff to their hearts' content. While smelling it may produce what seems like hallucinogenic effects, resulting in happy rolling and playing, it won't cause Felix any harm. No matter how much catnip your feline is exposed to, it's not possible that he'll overdose on it.
Nepeta cataria
The catnip plant, Nepeta cataria, is an herb in the member of the mint family of plants. While originally from Europe, Asia and Africa, the plant now grows freely throughout North America. The leaves, seeds and flowers of the plants contain the volatile oil nepetalactone, which attracts cats to the plant, according to Planta Medica. It's not clear exactly how catnip works its magic, but nepetalactone seems to mimic the action of brain chemicals that cause happiness in cats, causing them to become excited, playful and frisky, according to the Humane Society of the United States. While this chemical usually has a stimulating effect if smelled, it can have a sedating effect on your cat if he eats it, making him calm and sleepy.
Effects
Once your cat smells any amount of catnip, the nepetalactone it contains binds to the protein receptors in his nasal passages, stimulating both the amygdala and hypothalamus, according to Scientific American. These portions of his brain affect his behavior and can produce behavior similar to that of a female cat in heat, like rolling, drooling, hyperactivity and meowing. The effects of smelling the catnip plant are temporary, lasting only about 10 minutes. After this, your cat becomes immune to the effects of catnip for two hours, according to WebMD. This means that no matter how much catnip is around him, your kitty won't respond to it again for two hours.
Catnip Overdose?
Catnip is not addictive to cats and because its effects are temporary and harmless, it doesn't matter how much catnip your cat is exposed to. It's not possible for him to "overdose" on it or have too much, according to Vetstreet. Further, exposure comes with no lingering or "hangover" effects, says Dr. Carol Tice, DVM. Keep in mind, though, that if your feline friend ingests a large amount of catnip, he could wind up with a bit of gastrointestinal upset, resulting in vomiting and loose stool, just as he might experience after eating too much of any other type of plant matter. Some kitties also react with aggressive behavior when exposed to catnip, whether a lot or a little, so you might want to keep it away if your particular feline has such a reaction.
Effect on All Cats
Not all cats respond to catnip, with only around 50 percent showing any type of reaction to it at all, according to the HSUS. It also doesn't typically affect kittens less than 3 months of age. For cats who enjoy nibbling on houseplants or other objects in the home, consider growing some catnip plants for them to focus on instead. Sprinkle dried catnip on toys and scratching posts to encourage your feisty feline to use them and safely prevent boredom. The effects of catnip aren't limited to house cats, but are seen in felines of all sizes, including lions, leopards, jaguars and tigers, says Reader's Digest. Like their smaller cousins, these larger cats suffer no ill effects from catnip.