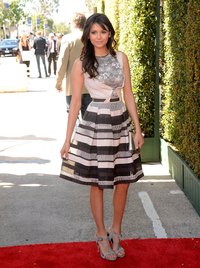 The good news about gray shoes: Because gray is a neutral, you have tons of options when deciding how to pair them. From the expected to the unusual and more surprising, you can have a lot of fun with your gray shoes. Whether you prefer to keep your look simple or spice things up, your gray shoes are sure to get a lot of very fashionable mileage.
Pretty Pastels
Keep your look soft by pairing your gray shoes with a pastel. Any pastel shade will work here. If your shoes are light gray, your look will be soft throughout. If you're sporting a darker shade of gray -- say charcoal -- your look will have a bit of interesting contrast.
Gray on Gray
Dare to go monochromatic. Don't worry about past rules that said piling the same color over itself is too "matchy-matchy." Monochromatic can be chic and very fashion forward. Shades of gray don't have to be the same. Varying hues add depth to your look and make it that much more interesting, so slip on your favorite gray dress or separates and go all-over gray.
Metallics
Your look can instantly go edgy by adding a little sparkle. For this style, gray will work best with metallic versions of the same color, so stick with silvers here. A sparkly silver dress paired with gray heels can be glamorous. If you want to go for something more forward, try gray ankle boots instead.
Bold Colors and Prints
Because gray is a neutral, it's the perfect addition to a brightly colored look, so don't be scared to go bold. Whether this means throwing on an daring electric blue piece or opting for a creative print, your gray shoes are the perfect neutral accent that will bring your look together.