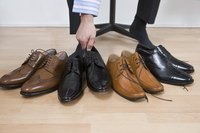 You never get a second chance to form a favorable first impression. Widely cited data published by the "Journal of Research in Personality" supports the conventional wisdom that clothes -- including shoes -- have great influence over the initial impressions people have of a man. When you're trying to gain or keep a job, wear shoes that put your best foot forward.
Wingtips
Wear wingtip shoes to make a powerful footprint at your place of business. Wingtip shoes are distinguished by the shaped extra layer of perforated leather overlapping the shoes' toe area, and usually have an added decorative layer wrapping the heel.
Loafers
Wear a well-polished pair of loafers to foster a prep-schooled persona. The Anglo-American interpretation of loafers commonly features a band of leather across the top of the foot. European versions are often free of the extra overlapping band. Business-dress loafers are made of rigid leather; soft leather loafers -- such as driving shoes -- are best reserved for casual wear.
Laceups and Straps
Add flair to your business shoe wardrobe with styles featuring neat laces that complement or contrast with the leather's color, or subtle straps that lend an air of sophistication to your shoes. Shoes with laces or side straps must be securely fastened to appear neat.
Boots
Step stylish feet into the office by wearing a spiffy pair of ankle-high boots. These are the styles European gentlemen and sophisticated Americans commonly wear for comfort, style and practicality. In keeping with the formula of dressing for success, boots should be well-kept and the style should be appropriate for business occasions.