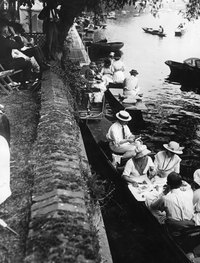 The modern concept of fashion did not begin with the 1920s and the flappers. The decades before flappers danced their way into popular culture saw significant changes in clothing styles, especially during the Edwardian period and La Belle Epoque. Edwardian fashion had a distinctly different style and shape than the Victorian fashions of the previous era, as well as a lighter overall appearance. The fashions of the late 19th and early 20th century up until the teens were elegant, feminine and, for their time, modern and stylish -- much like the images of the Gibson Girl that were so popular.
The Silhouette
The Edwardian silhouette changed somewhat over time. Before 1907, a fashionable figure was hourglass-shaped, but ample. In modern terms, we might consider it matronly. Shaped by a corset, the waist was tightly laced, the hips pushed back and the bosom pushed forward, creating the so-called "pouter pigeon effect." Between 1905 and 1907, the overall silhouette changed. The S-shaped "pouter pigeon" corset was replaced with a very long corset. The corset limited movement, but facilitated long, column-like dresses and suits with an empire waist.
Everyday Wear
In the middle and upper classes, most women wore a costume or a suit. This consisted of a gored, full-length skirt with a matching jacket, most often made of wool. The suit was worn with a shirtwaist blouse. These blouses were often finely embroidered, with lace insertion, tucks and other details. Silk and linen blouses were available, but very fine cotton was typical. The blouse could be worn without the jacket, sometimes with a floppy bow tie or other detail. Working class women also wore long skirts and blouses, remaking older garments to fit new styles. The shape of the garment changed with the silhouette, from exaggerated curves to a columnar silhouette.
Formal Wear
Women in the early part of the 20th century dressed up for many occasions, particularly in the upper classes. Tea gowns were worn in the late afternoon and early evening to greet guests. The tea gown was an unstructured gown made of soft, fluid fabrics. While a corset was always worn with the suit or costume, the tea gown was often worn without a corset. Evening dress required gowns of satin and taffeta, velvet or silk. These were worn over a full corset and often displayed the bust. While Edwardian daywear was quite modest, tea gowns and evening attire were not.
Accessories
During the day, no respectable woman would be seen without her hat. Edwardian hats were large and elaborately decorated. Even women in the working classes decorated their hats with ribbons and other accents. Capes and short jackets were worn for day or evening, and evening gowns were worn with gloves. While minimal jewelry was worn with suits during the day, elaborate jewels were frequently worn with both tea gowns and evening wear.