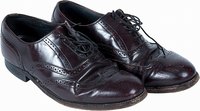 A black or dark gray morning suit is the most formal mode of dressing for special daytime occasions like weddings, state ceremonies or special events such as the Kentucky Derby. A few variations on basic shoe styles qualify as appropriate to wear with a morning suit. Some men choose to wear morning suits with specialized footwear that feature distinctive color or material combinations. But, in deference to tradition, shoes commonly worn with morning suits are dignified, black and highly polished.
Keep It Simple
The defining characteristic of shoes best worn with morning suits is their simplicity. Typically, they have a silhouette that is narrow around the toes and low-rising at the ankle. Customarily, they are polished to a glossy shine.
Pumps
For centuries, shoes with slipper-like qualities have been favored for wear with morning suits. Since they have no laces or buckles, they must fit properly to avoid the chance they'll slip off the foot. They are alternately referred to as formal pumps or court pumps. Formal footwear considered appropriate for evening occasions may be adorned with flat satin bows, or thin satin trim around the top rim of the shoe. But morning suit pumps look best unadorned.
Lace-Ups
Morning suit shoes with laces are referred to as Oxfords. The soles of Oxfords are cut closely to the shape of the foot. Oxfords are recommended because their laces reduce the risk that morning suit footwear will slip off when dancing or extended walking is required. Cap-toed Oxfords feature a stitched seam across the toe portion. Plain-toed Oxfords appear more streamlined.
Details
Oxford morning suit shoes look sleeker when they have a closed-lace design that features leather flaps covering the tongue of the shoe rather than leaving the laces exposed for view. Natural, varnished patent leather is sturdier than its vinyl alternative, which can crack and/or peel. Patent leather footwear is not an absolute necessity for wear with a morning suit, but patent leather does have the glossy finish that is in keeping with formal attire.