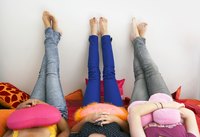 Pairing strappy sandals with skinny jeans can create a flattering look. You can try many combinations of jeans and sandals to go for different effects. Wear sandals with brightly colored jeans. Roll up jeans, or wear them with the ankles down. Play with several looks to find a few that are the most comfortable and flattering while suiting your taste.
Flats
When you wear skinny jeans with flat strappy sandals, you can roll the jeans up at the ankle to create a capri look. This may also be more comfortable during the summer months. Skinny jeans in different colors -- such as red, yellow and white -- provide a brighter, summery look during warm weather. However, bright colored skinny jeans are not as flattering as dark colors, and flat sandals do not provide any additional height. For a slimming look, wear dark jeans. You can still choose unusual colors such as royal blue and magenta. If you plan to take long walks in your flat sandals, make sure they provide support and comfort. Look for cushioned insoles and a proper fit.
High Heels and Stiletto Heels
Strappy high-heeled sandals with skinny jeans makes for a particularly flattering combination. The height of the heels paired with slimming jeans makes you look taller and slimmer, especially when with dark blue denim or black jeans. This look will make your ankles appear thinner and give your calves a more sculpted look. Sandals with a platform bottom and a stacked heel provide more support and are easier and safer to walk in than stiletto sandals, especially when heel is quite high, such as 4 to 6 inches.
Wedges
Strappy sandals with a low wedge give you more support than a flat sandal and more stability than a higher shoe, while looking just as good with skinny jeans. The higher the wedge, the more lengthening the look will be. Wedges are also more comfortable than high-heeled sandals, especially if you are wearing them while spending a significant amount of time standing on your feet.
Comfort and Safety in Sandals
"The higher the heel, the more damage that can occur," says New York City podiatrist Johanna Younger, D.P.M. The extra weight on the forefoot from walking in high heels that do not provide much support, such as stilettos, can cause pinched nerves and joint damage over time. Heels that are 2 to 3 inches in height with a stacked heel or a wedge provide more support and distribute weight more evenly. Sandals with securely fitting straps add further support.