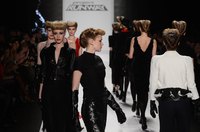 A ton of glitz and an array of glamor, all behind the curtain of exclusivity -- welcome to the beautiful chaos that is a fashion show. It's the place to be and be seen in the world of high fashion. With everyone in attendance from celebrities to athletes to fashion editors, an amazing fashion show can make all the difference in a designer's life.
A Designer's Vision
Fashion shows consist of clothes, makeup, models and most important -- art. The designer's art is the main theme of all fashion shows, because each show is planned and executed specifically as the designer envisions it. From the lighting to the music and even the smell, each show and the clothing presented create a work of art all dear to the designer's heart.
The Runway
Each fashion show comes equipped with some major backstage chaos. Models scurry around with a team of professional makeup artists and hairstylists all paid to make them look flawless. Once the desired look is achieved on each model, they are rushed into the new, expensive and usually pretty amazing clothes they'll showcase. Each model makes her way down the runway and back only to be greeted backstage by a team of people once again rushing her out of her clothes and into a new look.
The Atmosphere
Shows usually begin with music, and some also have special effects like light shows. Although not common, some shows offer finger foods or refreshments. The attendees have a busy day, and many do not have time for food or drinks. On Valentine's Day 2013, designers such as Ralph Lauren added a special touch to their shows by placing chocolates on guests' seats. Post-show, big fashion names like Nina Garcia, Creative Director of "Marie-Claire" magazine, along with a swarm of fashion correspondents, head backstage to congratulate and interview the designer. All of this is accomplished under the blinding flashes from the paparazzi and reporters.
The Fashion Elite
A major part of a fashion show is the audience. Big-time fashion players such as Vogue Editor Anna Wintour and stylist to the stars Rachel Zoe are regulars at most high-end fashion shows. The goal is to impress your attendees so much that everyone leaves your show either wanting to wear your designs, write about your looks or buy your clothes. But the fashion world is huge, and only the most elite and usually the most influential get invited.