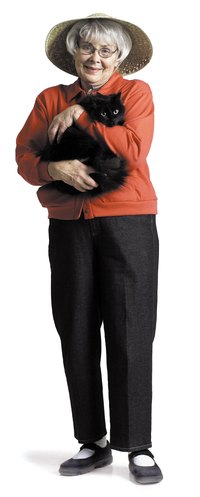 Human life expectancy is a complicated biological equation based on factors including genetics, stress levels, diet and exercise. Recent research indicates another possible factor: feline companionship. Medical studies documenting favorable health responses in people who share their lives with a cat are lending credibility to the claim that felines can have an extending effect on human life expectancy.
Lower Heart Attack Risk
It's possible that kitty's company in your life could reduce your risk for a life-shortening or life-ending heart attack. In 2009, findings from a 20-year research project conducted at the University of Minnesota Stroke Institute comparing cardiovascular disease rates in cat owners versus those not owning cats was published in the "Journal of Vascular and Interventional Neurology." Results showed that people without a feline companion were 40 percent more likely to die due to heart attack and 30 percent more likely to die from other cardiovascular diseases -- including stroke.
Dogs Don't Have Same Effect
According to the same researchers at the University of Minnesota Stroke Institute, Fighto's presence in a human's life does not have the same effect as does Fluffy's. In comparing the data on cat owners with those on dog owners studied during the same period, researchers discovered that dog owners did not have lower fatal heart attack and stroke rates.
Lower Blood Pressure
High blood pressure -- another life-shortening and potentially ending condition -- is effectively reduced by the presence of a pet, according to research conducted in Australia and the United States. The blood pressure, cholesterol and triglyceride levels of nearly 6,000 Australians were screened at a free Melbourne clinic. Fewer than 1,000 owned pets. Results showed pet owners had lower systolic blood pressure and lower triglyceride levels. A 2000 study at State University of New York at Buffalo tracked the blood pressure of 48 male and female stockbrokers living alone and taking medication to control their blood pressure. Half adopted a dog or cat; the other half did not. Six months later, those taking in an animal companion had lower blood pressure readings.
Helps You Unwind
Your kitty's antics can take your mind off the demands of the day. Watching her chase a string across the floor or simply listening to her purr in response to you rubbing her back or scratching behind her ears can reduce your stress level. According to Mao Shing Ni -- a contributor to the Doctor Oz television show and practitioner of Chinese medicine -- interaction with pets reduces the amount of the stress hormone cortisol.