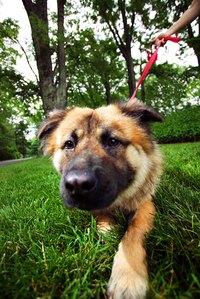 Humans have relished the taste of the underground morsels known as truffles since antiquity. And, for just about as long, humans have employed the use of animals in finding these delicacies hidden beneath the soil. Once upon a time, pigs were the favored assistants of truffle hunters. In recent history, however, the canine has taken the place of the porcine in truffle hunting.
Truffles
Truffles are mushrooms that grow underground, which is why animals with a superior sense of smell are best at finding them. Truffles can range from about marble-sized to golf ball-sized. They only reproduce when animals dig them from the soil, eat them, and then spread the fungus' spores in their feces. Truffles emit a strong smell that attracts animals such as pigs, dogs and rodents, thus ensuring the spores are distributed.
Animals
French white and Oregon white truffles, two types considered delicacies (most types aren't), produce a smell that is similar to a male pig's sex hormone. This has made female pigs especially adept at finding where the truffles are buried underground. Pigs, however, weren't always willing to stand aside and let the humans have the bounty. Dogs aren't always either, but they're easier to train and they are lighter to move if push comes to shove in who gets the truffles.
Training
Different trainers use different techniques for getting dogs to search out truffles for and relinquish them to their human handlers. For the most part, it involves scent training and begins when the dog is a puppy. The dog is rewarded for finding truffles hidden in the yard or inside a sock and works up to sniffing them out of their growing places beneath the earth. While some trainers say certain breeds, including poodles and German shepherds, are better truffle hunters, other trainers offer classes on training your family pet to hunt truffles.
Process
Dog and handler takes to the woods, usually in an area where the human hunter knows truffles are likely to be found, and the dog's nose leads the way. The hunting team may spend hours before the dog comes to an abrupt stop and signals truffles have been found. Truffles only emit the smell that attracts animals when they are mature, so a hunter can feel sure it is a truffle ready to harvest when the dog signals. Some dogs may be trained to just point or scrape their nails across the dirt to indicate where the treasure is hidden. Others may actually dig a hole.