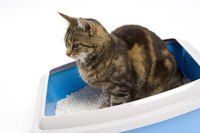 Giving your cat a clean, comfortable place to relieve himself is one of the most important things you can do as an owner, and choosing the right cat litter makes a big difference. Clumping cat litter has a wealth of benefits for both you and your kitty, but like most things, it isn't perfect. While its advantages are distinct, it isn't necessarily right for every cat.
Easy Scoopability
One of the most readily apparent advantages of clumping cat litter is the clumping itself. This type of litter is formulated to absorb waste and form solid, scoopable clumps that you can dig out with a slotted scoop. This enables you to keep the box cleaner for longer, and eliminates the need to dump the contents as frequently as you would with non-clumping litters. Instead, you can scoop out the waste on a daily basis, leaving behind a box of mostly-clean litter, and simply dump and replace as needed.
Fine-Feeling Grains
Clumping cat litter isn't just beneficial for you -- cats often love it too. This is because cats generally prefer to relieve themselves in a fine-grained substrate, rather than bigger, coarser grains. It's more comfortable for their paws, and makes it easier to dig around and bury their business. Non-clumping litters are typically made with bigger grains, which aren't as nice to paw around in -- not to mention they get stuck in a cat's paws and track throughout the home more easily.
Relatively Harmless Chemicals
While some have questioned the safety of the chemicals used in clumping cat litter, the ASPCA concludes that these chemicals -- namely bentonite clay and silica -- are relatively harmless. While consuming uncommonly large quantities of litter may give your cat an upset stomach, the trace amounts that he may swallow as part of routine cleaning is unlikely to affect him at all. That being the case, clumping cat litter is generally quite safe.
Possible Downside
Of course, there are no one-size-fits-all solutions when it comes to cat care, and litter is no different. While the safety, scoopability and fine grains of clumping cat litter make it beneficial for most cats and their owners, it isn't for everyone. A cat's history and/or personal preferences may make him reject clumping litters, preferring to use a traditional clay litter, organic litter or even shredded newspaper. If your cat refuses to use a litter box with clumping litter, try giving him several boxes at once with different types of litter in each one, and see which one he prefers using.