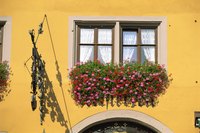 Window box liners, flower box inserts and planter box liners come in a wide variety of shapes, sizes and materials, making it easier to empty flower boxes that are permanently attached to walls and railings. Liners also make it easier to rotate plants from one box to another or from a greenhouse where the plants were started, often in a liner, right to the flower box.
Definition
Flower box liners are slightly smaller than the flower box and are made of a weather resistant, long lasting material that can easily be cleaned after the old soil has been removed. Liners are an economical way of extending the life of the flower box and keeping moisture in the soil. Liners come either with drainage holes already in the bottom or with pre-scribed holes that can be punched out to line up with the holes already in the flower box.
Polypropylene Liners
Black plastic liners are popular because they are lightweight, inexpensive, easy to clean and fit standard 8-inch wide flower boxes, with sizes ranging from 12 to 36 inches long by 5 1/4 inches high. These polypropylene liners slip inside a flower box or window planter and can be used indoors or outdoors. Liners can be used indoors for new starts to get a jump on the growing season, allowing you to drop the liner into the flower box or planter after the last spring frost.
Composite Liners
Composite cellular flower box liners are heavier than polypropylene, with 1/2-inch thick walls made of high-grade PVC plastic. These liners can also be used as stand-alone boxes, but are most often used in commercial settings or in homes where plants are frequently rotated. Composite liners come in a wider range of sizes, with lengths up to 72 inches to fit popular window frame and flower box sizes.
Coco Liners
Used in hanging wire, mesh baskets and lattice flower boxes, coco liners are made from coconut coir. They are easy to install and come is a variety of standard sizes to correlate with standard window box sizes. If you can't find the size you need, you can purchase coco liners by the sheet and make the liner yourself. This type of liner is used to hold the soil and maintain moisture; it is not well suited for untreated wooden flower boxes.