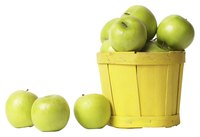 Planting the fast growing Granny Smith (Malus x domestica "Granny Smith") apple tree can yield firm, crisp, juicy and tart fruit by the second season, which is uncommon among most apple trees. The tree can reach a mature height of 15 to 20 feet, growing an impressive 2 to 3 feet a year, with spacing an important aspect for pollination. Appropriate for U.S. Department of Agriculture plant hardiness zones 5 through 8, the Granny Smith is available in both full-size and dwarf varieties. The Granny Smith is fairly drought tolerant and naturally pest resistant.
Site Selection
This deciduous tree needs a spot that receives at least eight hours of full sun each day, with well-drained loamy soil, and is sheltered from strong winds. It is adaptable when it comes to soil types, but to give your trees a good start, add aged manure, peat moss or compost to the soil to provide the best possible growing conditions.
Planting
Full grown Granny Smith apple trees need enough space to grow up and out, so place trees a minimum of 15 to 20 feet apart; also keep in mind the distance required for pollination. If you have limited space, consider planting dwarf Granny Smith trees which need a distance of about 8 to 10 feet between trees. Young, newly planted trees can break from the elements, so it pays to stake them for the first two to three years. Add mulch around the tree to preserve moisture and prevent weeds.
Pollination
The Granny Smith apple tree is self-fertile, meaning it pollinates itself. However, according to the University of Missouri Extension, all apple trees need cross-pollination with a different variety for the best fruit set. Plant standard and semi-dwarf apple tree varieties a minimum of 50 feet apart, and dwarf varieties a minimum of 20 feet apart for the best results. It's also critical that both trees flower at the same time to ensure cross-pollination.
Additional Tips
If transplanting a Granny Smith, plant your trees as quickly as possible to avoid shock, keeping in mind the distance requirement if you want your trees to cross-pollinate. If you plant in the fall, wrap the tree trunk to prevent sun-scald and to keep rodents from munching on the delicate bark and leaves. Remember to remove this wrapping in mid-April or May.