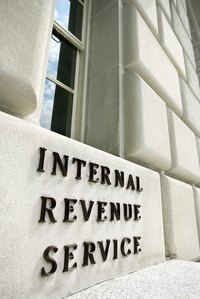 S corporation and C corporation income tax returns are due by the 15th day of the third month after the end of the company's tax year. A limited liability company tax return is due by the 15th day of the fourth month of the company's tax year. A corporation or LLC can file Form 7004 to get a five-month extension of time to file. Form 7004 extends the filing deadline but the IRS will charge monthly interest on the unpaid tax amount until it is paid, and may assess a late filing penalty. If the return remains unfiled after the extension time has run, the IRS will start assessing late-filing penalties that can add up fast.
S-Corporation Late-Filing Daily Penalty
An S corporation is penalized $195 per day multiplied by the number of corporate shareholders for each day the return remains unfiled. For example, if the tax return is five days late and the corporation has three shareholders, the tax is computed as $195 multiplied by 5 multiplied by 3, or $2,925.
Additional S Corporation Tax-Due Monthly Penalty
If taxes were due with the return, you add in another ½ of 1 percent, or .005, of the unpaid tax amount for each month. For example, if the corporation's tax is $2,000, multiple $2,000 by .005 to get $10. Add the $10 to the $2,925 late filing penalty for a total penalty of $2,935. The maximum IRS-imposed penalty is 25 percent of the unpaid tax.
C Corporation Late-Filing Penalty
A C corporation is penalized 5 percent of the unpaid tax each month until the tax return is filed. The maximum penalty the IRS can impose is 25 percent of the unpaid tax. For example, if a C-corporation files its tax return one month late and owes $10,000 in taxes, calculate the late-filing penalty by multiplying $10,000 by 5 percent, or $500. The minimum penalty if the return is more than 60 days overdue is $135 or the unpaid tax amount, whichever is smaller.
LLC Late-Filing Penalty
Limited liability companies that are classified as partnerships for taxation purposes must file an annual partnership return. The late-filing penalty is $195 each month the return remains unfiled multiplied by the number of managing members for a maximum of 12 months. For example, if an LLC was three months late filing the return and had four managing members, you can calculate the penalty by multiplying $195 by 3 multiplied by 4, or $2,340.
Other Late-Filing Penalties
In addition to the penalties for filing corporate income tax returns late, the IRS imposes penalties on corporations for filing quarterly payroll tax reports and the annual federal unemployment tax return late. Filing corporate tax returns on time can result in substantial savings and help keep the corporation off the IRS radar.