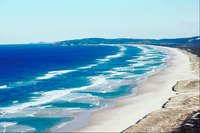 Australia, the world's largest island, boasts a vast and varied landscape. Its desert-covered red center gives way to surrounding rainforests and sandy beaches with a coastline that totals 30,000 miles. Australia's shores include renowned scuba-diving and surfing locations, UNESCO World Heritage sites such as the Great Barrier Reef and historical piers.
Bondi Beach
Five miles from the center of Sydney rests the iconic Bondi Beach. It's a famous surf and sunbathing spot which attracts up to 40,000 daily visitors. Hotels, eateries, bars and boutiques overlook the stretch of sand that is also home to the world's oldest lifeguard club. Salt-water rock pools sit at either end of the beach and a four-mile trail runs to a handful of neighboring beaches such as Coogee.
Wineglass Bay
Voted by the Telegraph newspaper as one of the top 10 luxury beaches, Wineglass Bay is a secluded strip of paradise in the state of Tasmania. The sweeping white cove and the surrounding rainforest are home to wallabies, wombats and Tasmanian devils, and dolphins grace its waters. The bay is so isolated that it can only be reached by boat or via a three-hour trek.
Stockton Beach
Stockton Beach stretches from Newcastle to Nelson Bay in New South Wales. With an area of 2,000 square miles it is the largest mass of sand in Australia. Dolphins regularly visit the waters which are also a renowned surfing, snorkeling and scuba-diving location. A Norwegian shipwreck rests on the sands and the 100-foot high dunes attract quad-bike riders and four-wheel drive thrill seekers.
Busselton Jetty
More than 1-mile long, the Busselton Jetty is the longest timber-piled pier in the Southern Hemisphere, and the second longest in the world. It lies in Geographe Bay -- an area voted as one of the top 10 places to see in the world by Lonely Planet -- in the state of Western Australia. You can walk along the 140-year old jetty or take a train to the end where there is a 25-foot deep underwater observatory.
Urangan Pier
Urangan Pier protrudes from Hervey Bay in the state of Queensland. It was originally constructed as a rail link for the exportation of sugar, coal and timber but is now a popular tourist and fishing spot. Demolition of the pier began in 1985 but was halted due to public uproar and a festival was held to raise funds for its upkeep. The festival continues to this day in the form of an annual fishing competition.