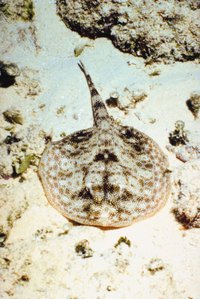 Hardly a summer's day in Southern California passes without some unfortunate beachgoer feeling the painful jab of a stingray. "Stingrays are an everyday occurrence along the Southern California coastline," lifeguard Lt. John Everhart told NBC San Diego news. California's round stingray prefers the state's southern coast, and its sting can be extremely painful, though fatalities are rare. While records of injuries aren't typically kept, a study led by Cal State Long Beach determined the stingray population and number of stings is increasing, especially at Seal Beach where at least 16,000 to 40,000 stingrays swarm.
Seal Beach
Years ago locals started calling Seal Beach "Ray Bay," and more recently, local surfer and musician, Gary Snow, composed the "Stingray Shuffle," an amusing song with some serious tips for avoiding stings. Its easy to see why: surfer favorite Seal Beach, at the northernmost end of Orange County, has the largest concentration of stingrays in the nation. About one-third of stingray injuries on the coastal United States occur on Seal Beach, lifeguard Chief Joe Bailey told the "Seal Beach Sun." In just the first week of July, 147 stings had already been recorded for 2012, reported the "Sun News."
Other California Beaches with Stingrays
While you won't see nearly as many stingrays at other California beaches as at Seal Beach, exercise caution at all sandy-bottomed shallows off Southern California beaches. The rays tend to come into the shallows and burrow in the sand especially when the surf is flat or small. When the waves are big, there's less danger of an encounter. Beaches with abnormally high numbers of stings include Seal Beach, Bolsa Chica and Huntington Beach in Orange County, and San Diego County's La Jolla Shores and Torrey Pines. One unseasonably warm October weekend at Huntington Beach lured 20,000 people to the beach and droves of rays to its shallows, resulting in more than four hundred stings in just two days.
Leading causes for the increased stings on the Orange Coast, as reported by Environment News Service include: habitat displacement due to development of estuaries and bays; more people moving to Orange County, which in turn brings more people to the beaches; and in the case of Seal Beach, power plants heating water from the San Gabriel River that pours into the ocean.
Treating Stings
The degree of pain experienced varies from mild to excruciating, and as the toxins spread through the wound, the pain increases. If you are stung, don't rub the wound with sand or meat tenderizer as you might to treat jellyfish stings. Go immediately to a lifeguard, who should be skilled at treating stingray wounds and can monitor your vital signs. The wound must be cleaned and then soaked in hot water. If after an hour of soaking, the pain persists or there is any sign of infection, see a doctor immediately. An allergic reaction can prove fatal if the victim goes into anaphylactic shock. Those allergic to bees may also be allergic to stingrays, so lifeguards advise bringing injection kits to the beach just in case.
Prevention
The best way to avoid getting stung, although there's no guarantee, is to do the stingray shuffle, as Snow advises in his song. Shuffling your feet without picking them up prevents you from haplessly stepping on a ray and warns the ray that something is in the water (stingrays aren't typically that aggressive, so most will swim away). Stingrays may visit the shallows more frequently in June and July to mate and in October to give birth. At Seal Beach, look for signs directing surfers to areas with fewer stingrays.