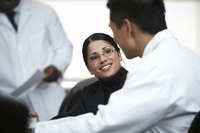 A work environment in which colleagues and co-workers feel respected can lead to greater levels of productivity and higher morale. While it can be difficult to define courtesy and the way people should ideally interact with one another, you can develop guidelines and institute role-playing activities to demonstrate best practices for making your workplace friendlier and more professional.
Develop Written Guidelines
What is seen as courteous behavior to one person may not be as recognizable to another, especially when employees have diverse backgrounds and levels of experience. Develop written guidelines that describe examples of courteous behaviors, such as a professional tone of voice, appropriate word choice, inclusive practices and respectful measures. Distribute the guidelines to employees, discuss them in a group setting and use them for future training purposes.
Conduct Courtesy Training
Because courtesy issues can be difficult to pinpoint and describe, use role-playing scenarios to identify courtesy missteps and offer suggestions for better practices. For example, at a department meeting, recruit several staff members to demonstrate how others can perceive things such as body language, remarks and gestures as rude or demeaning. For example, portray a group of colleagues publicly excluding a co-worker from an after-work event, interrupting a manager during a presentation or barging into an office without knocking. Demonstrate both a wrong and a right way to approach these scenarios.
Invite Employee Input
Your employees know firsthand what strikes them as courteous and discourteous behavior from co-workers. Invite staffers to share examples of behavior they find off-putting, and integrate the information you gather into future training and informational sessions. Take the edge off the topic by adding levity. You also can post a "Top 10 List of Courtesy Don'ts" in the break room -- for example, don't leave your dirty dishes in the sink, don't interrupt a colleague while he is on the phone, don't leave the copy paper tray empty and don't patronize others with a condescending tone of voice. You also might include a "Do" suggestion list, such as offer to lend a hand to an overwhelmed colleague, invite everyone in the department to celebrate a colleague's birthday and knock on office doors before entering.
Measure Courtesy Practices
Evaluate an employee's level of courtesy to colleagues as part of his annual performance assessment. Just as you would rate an employee on meeting goals and objectives, provide feedback on courtesy issues as well. For example, if an employee is typically curt and dismissive of colleagues, your performance evaluation can include specific instances in which this attitude and demeanor was seen as unprofessional by a co-worker. Help the employee set goals for recognizing and altering future behaviors.
Recognize Efforts
Look for opportunities to acknowledge courtesy between individuals and departments. For example, take an employee aside and say, "I know your newsletter project was delayed because the graphics department was backlogged. I appreciate the common courtesy you showed your colleagues at the meeting when you didn't raise your voice or roll your eyes."