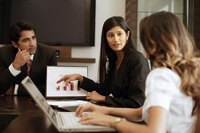 Building a business from the ground up requires owners to create and deliver a new product or service and to convince consumers to try it. Buying a franchise is an alternative to starting a brand-new company, and it involves an owner paying a franchisor to open and operate a new location of an established business. Franchising lets owners take advantage of a proven business model and sell products and services that are already known to customers, but operating a franchise has several notable limitations.
Start-Up Costs
Buying a franchise can involve significant start-up costs that can make it more expensive to become involved in franchising than starting a business from scratch. Start-up costs vary significantly from one franchise to another and depend on the type of business. According to Entrepreneur magazine, start-up costs for well-known franchises such as Subway, McDonald's, Anytime Fitness and 7-Eleven range from $30,000 to more than $1 million. Start-up costs may include non-refundable franchise fees paid to the franchisor.
Ongoing Costs
Operating a franchise can require certain ongoing expenses that cut into profits. For example, a franchise owner may have to pay advertising fees that go into an advertising fund that the franchisor uses to promote the company. Owners may also have to pay royalties to franchisors based on a percentage of weekly or monthly gross income. Owners can be required to pay a share of profits to franchisors even if they aren't earning much income.
Business Control
Franchise owners have to comply with rules and guidelines established by franchisors, so they are not free to operate their stores as they please. Owners may be limited to selling a specific selection of products and services at predetermined prices. For instance, someone who buys a restaurant franchise might be not have the ability to change anything on the menu. Franchisors can place many other restrictions on how franchises operate, such as standards for the appearance of stores, employee uniforms, store hours and accounting practices. Owners may also be limited in terms of where they can open new stores.
Contract Renewal
Franchise owners have a contract with the franchisor that gives them the right to sell the franchisor's products and services. Franchise agreements can last up to 20 years, but after a contract expires, there is no guarantee that the contract will be renewed. A franchisor can potentially change the terms and conditions in the contract at the time of renewal, increase royalty payments, impose new restrictions or decline to renew the contract.