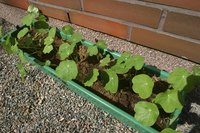 Drought-tolerant, sun-loving plants thrive in southern-exposure window boxes. Plant choices depend on gardening interests. Busy gardeners should choose succulents, which look good with minimal care. Perennials require a little more watering and attention but provide a display year after year without replanting. Home gardeners interested in cooking can plant herbs, and people who enjoy puttering can grow annuals from seeds.
Succulents
Succulents grow best in a sunny, southern exposure and easily tolerate dry conditions in window boxes. An example is ruby hearts hens and chicks (Sempervivum ''Ruby Hearts''), which has rosettes of deep-red-centered, emerald-green leaves that sprout clusters of small, purple, summer flowers at the top of thick stems. This plant is hardy in U.S. Department of Agriculture (USDA) plant hardiness zones 4 to 8. Lipstick echeveria (Echeveria agavoides ''Lipstick''), another succulent, prefers a warmer climate. Hardy in USDA zones 9 to 11, it tolerates full sun well and has rosettes of reddish-pink-edged, bright-green leaves. It bears red flowers in spring and summer.
Perennials
South-facing window boxes provide a colorful display for many months when filled with drought-tolerant, sun-loving, long-blooming perennials. Hardy in USDA zones 8 to 11, Ravers Pumpkin Pie African daisy (Arctotis hybrid ''Archley'') bears bright-orange flowers from April to November. Also flowering spring through fall, raspberry surprise maiden pink (Dianthus ''Raspberry Surprise'') prefers a cooler climate; it is hardy in USDA zones 4 to 9. This evergreen perennial has burgundy-centered, pink, fragrant flowers. Remove fading blooms from both plants to encourage more flowering.
Herbs
A kitchen window box with a southern exposure is the ideal place for growing herbs because cooks need only to open the window to gather ingredients. Commonly used herbs that grow well in sunny window boxes include chives, oregano and thyme. Onion-flavored chives provide leaves and edible purple flowers, and they are hardy in USDA zones 3 to 10. Hardy in USDA zones 5 to 11, oregano grows easily in window boxes. Thyme is hardy USDA zones 3 to 9. All these herbs tolerate frequent picking.
Annuals
Growing annuals in window boxes means home gardeners can change their displays yearly or even seasonally. Many annuals are bred to suit full sun, container-growing and provide long-lasting displays. The annual "Callie Rose Star" (Calibrachoa ''Callie Rose Star'') has flowers patterned in rose and cream, and it blooms from early summer to fall. Fertilize the plant regularly for a prolific display. Ageratum houstonianum, another annual, bears white, pink, purple or blue butterfly-attracting flowers from midsummer to fall. Keep both plants moist at their roots.