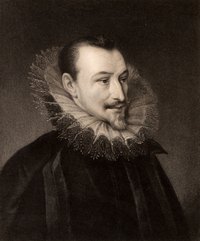 Elizabethan fashion -- styles and garments dating to the second half of the 16th century -- was remarkably rich and complex, at least for the upper classes. Both men and women of the nobility wore heavy garments made of luxurious fabrics and heavily embroidered. While this was not the clothing of the masses, these are the garments that graced Elizabeth's courts and the manors of England.
Undergarments
For both men and women, dressing began with a variety of undergarments. Men wore a loose linen shirt next to their skin. A corset, also called "a pair of bodies," went over the shirt, supporting and slimming the torso. Men wore stockings or hose that came up the legs, but did not meet in the middle. A codpiece, sometimes padded, covered the opening in the hose. Women wore a long fitting, loose gown or smock, a corset, a farthingale or hoop skirt, above-the-knee stockings and various petticoats and padding.
Men's Attire
At court, men wore a doublet, a garment resembling a jacket, and an embellished shirt. The doublet had removable sleeves that were changed based on the different occasions at which the garment was worn. The sleeves laced into the doublet. He wore breeches with his doublet. While breeches covered the legs and resembled modern shorts or pants, they left the crotch uncovered. Short breeches, called trunk hose, were worn over long stockings. The codpiece covered this opening early in the period. Later, breeches folded over the crotch area, concealing an opening. Men wore cloaks for warmth. A hat, belt, ruff, gloves, shoes and jewelry completed the outfit for the well-dressed Elizabethan man.
Women's Clothing
Wealthy women had a wide variety of options once they were dressed in their smock, pair of bodies and farthingale. A petticoat, petticoat bodice or kirtle was worn over the farthingale. The petticoat was an underskirt, while the kirtle was an undergown. A shirt or partlet covered the upper chest, providing modesty. Finally, a gown and sleeves went on top of the kirtle or petticoat. Overskirts and cloaks were worn as outerwear to protect the clothing in bad weather. A ruff, hat and jewelry completed this heavy and lavish outfit.
Accessories and Cosmetics
Both men and women wore ruffs, or large pleated frills at the neck. Some women made a living starching, pressing and setting ruffs into formal frills. Necklaces were worn over the gown and ruff, often falling relatively low on the chest. Women also wore gems and necklaces in their hair, and the richest of gowns were ornamented with precious stones. Both men and women wore perfume or carried perfumed pomanders. Women wore makeup, including lead-based white foundation and cerise-tinted color for their lips and cheeks.