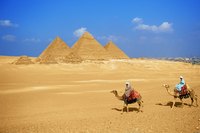 From the ancient sites near bustling Cairo in the north to the southern gems of Luxor and Aswan, Egypt's pyramids hold a spot on many people's travel bucket lists. As with any trip abroad, travel to Egypt requires some forethought as to what to bring and how to dress -- and then some. Witnessing the wonders of ancient history in Egypt will go more smoothly if you pack with the desert weather and the nation's culture and geography in mind. Before any trip to the Middle East, U.S. citizens should also check the U.S. Department of State Current Travel Warnings page (travel.state.gov).
Cultural Considerations
Egypt is a predominantly Muslim country, and women are expected to dress conservatively compared with western countries. Men visiting Egypt have fewer concerns; they should wear long lightweight pants, and a short-sleeved shirt is fine for the pyramids. However, even in Cairo and other locations away from the beach, men should avoid wearing shorts and sleeveless tops. Women visiting the pyramids should adhere to the conservative dress code and avoid tight-fitting or low-cut clothing. Long pants are preferable, but loose skirts that fall below the knee are acceptable. Foreign women are not expected to cover themselves with a headscarf unless they so choose, but traditional clothing for local women beyond the cities includes covering arms, legs and hair. If your travels include a visit to a mosque -- which tourists may enter only when a service is not in progress -- both men and women must completely cover their arms and legs before entering.
Weather Considerations
Egypt's weather can be hot, dry or both at the same time. High tourist season falls during the winter months of December, January and February, when temperatures drop a bit and make for less extreme heat during the day. Winter nights in Cairo can be chilly, down to 41 degrees Fahrenheit, with temperatures up to 84 F during the day. Locations farther south, such as Aswan and Luxor, get very hot during the day, with temperatures upward of 90 degrees, but a casual jacket or shawl is a good idea at nighttime. Desert nights can get surprisingly cold no matter the time of year. Carry something light with you for both chilly nights and the drastic shift of temperature between the Egyptian daytime heat and the cool interior of temples when visiting places like the Valley of the Kings on the West Bank. As a general rule, expect sweltering midday heat in Egypt in both summer and winter, and plan for cool or chilly evenings once the sun begins to set on the desert.
Comfort
Comfortable, durable shoes are a must when you visit the pyramids. Dust, sand and rocks are abundant at the pyramid tourist sites. You can wear sandals if they are rugged, but closed shoes fare better in Egypt. Light, breezy clothing is best; wear long pants not only for cultural considerations but also because you'll encounter blowing sand and loose rocky soil while walking. The interiors of many sites have rough-cut and uneven stone. If you choose to try camel or horseback riding, you'll definitely want to wear long pants. Apply sunscreen frequently to avoid sunburn, and wear a wide-brimmed hat to help shield your face, ears and neck.
Other Tips
Be careful out in the sun during your trip to Egypt's pyramids. Pack sunscreen, extra water bottles and small snacks to help stave off exhaustion and sun damage, especially when visiting places farther south like the West Bank sites of Luxor, where the midday heat is even more fierce than in Cairo. Most organized tours are scheduled for early mornings or evenings to avoid the sweltering midday temperatures. It's best to leave extra valuables locked up at your hotel while exploring the pyramids and tourist sites -- not only can you lose your items, but they can be damaged by the heat or sand. Don't wear anything you wouldn't want to get roughed up or dirty.