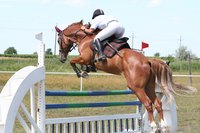 Although the term "kissing spines" sounds almost romantic, it's often a painful condition for a horse. Formally known as dorsal spinous impingement, symptoms of kissing spine syndrome run the gamut, with some affected equines exhibiting no outward signs and others behaving badly under saddle. If your usually well-mannered mount starts acting up when ridden, have your veterinarian out for a physical examination.
Kissing Spines
The vertebrae in a horse's back each have thin bones, known as processes, protruding upward. If these bones start touching each other, or "kissing," pain can result. It's not uncommon for processes to kiss in the area located under the saddle. Some horses are born with kissing spines, while others develop them as a result of an accident or athletic activity. Kissing spines might develop if a horse suffers another back-related injury, perhaps from a fall.
Breed and Discipline
Certain breeds are more prone to kissing spines, as are horses used for certain disciplines. Kissing spines occurs more often in thoroughbred racehorses, although many of these athletes show little in the way of symptoms. Horses used for jumping, whether in hunter/jumper competition, eventing or in the hunt field, are the most likely to suffer from kissing spines.
Behavioral Issues
Certain behavioral changes, either under saddle or on the ground, might indicate kissing spines disease. If your normally cooperative horse starts bucking, refusing jumps and seems reluctant to bend, consider kissing spines a possibility. If he becomes "girthy" when tacking up -- pinning his ears and generally misbehaving -- the back soreness causing the reaction could be kissing spines. Horses in great pain will react when you brush their backs.
Diagnosis and Treatment
Because the symptoms of kissing spines mimic so many other equine conditions, the only way your vet can make an actual diagnosis is via an X-ray of the spine -- and even that might not be definitive. Your vet might want to conduct an ultrasound or perform thermographic imaging -- heat measurement -- of the spine. If your horse does have kissing spines, therapy includes medication to ease inflammation and and modalities including acupuncture, massage, shock wave and chiropractic. Some horses might benefit from spinal surgery. Some horses respond well to therapy and can continue jumping and competing after recuperation. For others, a change of discipline with no jumping involved can make them productive again. You also might require a different saddle, chosen with the help of a professional fitter working with your vet.