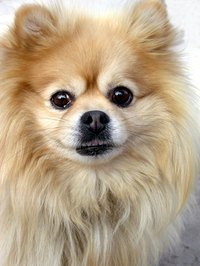 Physical trauma, infectious diseases and genetic or environmental factors can cause tracheal damage in puppies and adult dogs. The damage may not produce serious symptoms during the dog's lifetime, but severe tracheal problems can be crippling or fatal. It is important to recognize the signs of tracheal damage as early as possible to prevent the condition from becoming more serious. Many types of tracheal damage can be cured or mitigated if they are identified and treated early.
Dry Cough
A persistent cough is one of the most common initial warning signs of tracheal damage in dogs. Unlike the wet cough that results from an infection, the cough from tracheal damage does not release phlegm or mucus from the dog's throat. These unproductive coughs only inflame the tracheal problem and can weaken the dog's lungs. Dogs with serious tracheal damage may go into coughing fits that last for minutes.
Difficulty Breathing
Collapsing trachea syndrome and similar conditions can inhibit the dog's ability to breathe. Their ordinary breathing may be noisier than usual, and affected dogs tend to breathe through their mouth rather than through their nose, according to the Southern California Veterinary Referral Group. The inability to breathe can cause the dog to become distressed or panic suddenly. Breathing problems can also interfere with the dog's eating and sleeping patterns.
Lethargy
Puppies with tracheal damage are often more lethargic than other dogs. Exercise exacerbates their breathing problems, which discourages them from running and playing. If a dog with tracheal damage attempts to exert himself, he may lapse into a sudden coughing fit or begin to wheeze heavily. Lethargic behavior can also cause the dog to become anxious or depressed, and he may be unwilling to interact with humans or other dogs.
Other Symptoms
Some dogs with tracheal problems may periodically choke or gag even though no foreign object is obstructing their breathing. In some cases, the inability to breathe properly discolors the dog's skin, which takes on a bluish tinge. This condition, cyanosis, represents a potentially life-threatening deficiency. Chronic bacterial or viral infections may also be a result of tracheal damage, because the dog is unable to properly clear pathogen-bearing mucus from his respiratory system.