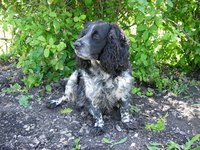 The Bible was written for human salvation. It does not contain a definitive answer regarding the afterlife of dogs. The subject of whether dogs and other pets go to heaven has nonetheless been a matter of debate by Catholics and other Christians throughout history. Pet owners can take comfort in Bible verses and teachings from Catholic church leaders that suggest dogs and other pets do indeed share an eternal afterlife in heaven with humans and God.
The Catechism of the Catholic Church
The catechism of the Catholic church is the official doctrine of the Catholic church. It was written by bishops, theologians and other experts on the Catholic religion. The catechism does not provide a direct answer regarding the afterlife of dogs, but it does contain a section that mentions them as special in God's eyes. Section 2416 of the 1992 catechism of the Catholic church states "Animals are God's creatures. He surrounds them with his providential care. By their mere existence they bless him and give him glory."
Pope John Paul II
Pope John Paul II shared his love for animals with the world. His love for animals is evident in his 1990 speech quoted by the Franciscan Missionary Sisters of the Sacred Heart when he said, "Animals possess a soul, and men must love and feel solidarity with our smaller brethren." Pope John Paul II also said animals are "as near to God as men are."
Friar Jack Wintz, O.F.M
After studying the Bible and the writings of St. Francis of Assisi, the patron saint of animals, Friar Jack Wintz, O.F.M., came to the conclusion that dogs and other animals share the afterlife in heaven with humans. One of the reasons for his belief comes from study of the Garden of Eden. If animals shared a life with humans in the paradise of Eden, then why would they not share an afterlife in heaven with humans? Another biblical example Wintz gives that suggests an afterlife for dogs and other animals is the story of Noah's ark. In Genesis 9:10-11 of the Bible, God promises to never again destroy all flesh by the waters of a flood. Friar Wintz reasons that God did not exclude the animals but included them in the promise to never again destroy them by a flood, suggesting that God intends to save both humans and animals alike.
Bible Verses
The Catholic Bible contains verses that speak about animals, which can provide comfort to people who have lost their beloved pets. Luke 3:6 says "and all flesh shall see the salvation of God." Isaiah 11:6-9 mentions animals in heaven. Ecclesiastes 3:18-21 says men and animals have the same breath and that man does not have an advantage over animals. It also says that man and animals all "go unto one place." Luke 12:6 mentions that not even sparrows are "forgotten before God." Revelation 5:13 mentions all creatures praising Jesus.