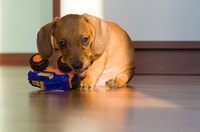 Puppies by nature are curious, experimental and will try to eat anything. Unfortunately, some of the objects they try to consume are inedible and can be downright dangerous. Though it is difficult to know exactly how well items will pass through a puppy's digestive system, a few basic guidelines can help you to determine when to consult a veterinarian to avoid a serious problem.
Relatively Safe Items
Some dogs favor chewing cloth items and often consume pieces of clothing. These pieces generally pass without incident, though you may find long strings of thread in the feces. Shoe chewing can be a problem in households with a puppy. Put away all shoes and teach children in the household to keep their shoes off the floor. Keep rawhide chews on hand to train the puppy to gnaw only on acceptable items.
Dangerous Objects
Be particularly careful with plastic toys and other items that can break into smaller pieces with jagged edges that can perforate the puppy's intestines. Many types of plastic are very hard and can break into pieces with these sharp edges. Pieces of glass can also cause serious damage. Though you would think that puppies would naturally avoid such inappropriate objects, they will try to eat almost anything. Other dangerous items include rubber objects, disposable razor blades, balloons or sharp fragments of brittle bone.
Signs That An Object Will Not Pass Normally
The most serious situation occurs when a puppy swallows an object that is too large to pass through his digestive system and creates a blockage. Objects with sharp edges can also perforate the walls of the digestive system, causing infection throughout the abdomen. If you know or suspect that your dog has swallowed a hard object or one that can be chewed into pieces with sharp edges, monitor the animal closely for any signs of distress. If the puppy shows a loss of appetite, vomiting, tenderness in the abdomen or seems lethargic in any way, call your veterinarian immediately to have the animal examined.
Helping Items Pass Through The Puppy's System
Feeding the puppy soft foods or a stool softener can help in passing items through the puppy's digestive system, according to the Vermont Veterinary Medical Association. Only use softeners that have been approved by your veterinarian. If you notice the puppy straining to defecate, call your vet to have the puppy examined immediately.
Keeping Your Puppy Safe
You can avoid the dangers of swallowed objects by clearing the floor where the puppy spends most of his time. Throw away small rubber balls that can get lodged in the windpipe. When outdoors, discourage the puppy from chewing on rocks, pieces of wood or other found items. Monitor the puppy's playtime carefully to ensure that his curiosity and chewing instinct does not cause a serious injury or even death.