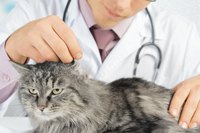 A cat's liver performs many functions; two of the most important being removing toxins and waste products from the bloodstream and regulating metabolism. Proper functioning of the liver is critical for a cat's survival. Because it interacts extensively with other bodily organs and systems, signs of liver disease are often attributed to some other cause. Thus, when liver disease is diagnosed, your cat may be well on his way to liver failure. Early diagnosis is crucial for your cat's survival.
Symptoms of Feline Liver Disease
Some of the first signs you may notice if your cat has liver disease are loss of appetite, weight loss, lethargy, weakness, dull coat, vomiting and diarrhea. Those can be symptoms of many other conditions as well. More specific signs, such as yellowing of the whites of the eyes, also called jaundice, or a palpably enlarged liver, likely mean the disease has progressed beyond the early stages.
Your cat may exhibit certain behavior and neurological signs. These can include restlessness, trembling, agitation, disorientation, aggression, staggering and even seizures.
Clinical Signs of Feline Liver Disease
When your veterinarian suspects liver disease or damage, he likely will perform blood tests to confirm the diagnosis. These liver function tests can help give an accurate depiction of the state of your cat's liver.
A liver function panel typically consists of a group of blood tests that measure bilirubin, alkaline phosphatase, aspartate aminotransferase and alanine aminotransferase. Bilirubin is a byproduct of the breakdown of hemoglobin; elevated levels can occur with disorders of the liver, gall bladder and bile duct. Alkaline phosphatase, aspartate aminotransferase and alanine aminotransferase are liver enzymes. High levels of these enzymes may indicate liver damage.
Other tests to detect conditions involving the liver might include a urinalysis, a complete blood count or a blood clotting profile. Your vet also may test your cat for the presence of heartworm.
Causes of Liver Damage and Disease
Liver disease is an umbrella term used to describe many different conditions. These include hepatic lipidosis, also called fatty liver, which is the most common liver disease in cats. It is triggered when a cat doesn't eat for several days and his body breaks down stored fat for energy. The byproducts end up in the liver.
Another is hepatitis, a chronic liver inflammation, which can be caused by infection, immune system disorders and medications. Cholangiohepatitis, also called inflammatory hepatobiliary disease, is an inflammation of the bile ducts and liver. The condition usually is caused by an infection in the intestines or pancreas.
A portosystemic shunt is a congenital defect that causes the blood to flow around rather than through the liver. Therefore the liver can't detoxify the blood and waste products accumulate in the bloodstream. Other conditions that may cause liver disease or damage, include liver cancer, liver abscess, heartworm, heart disease or drug toxicity.
Imaging Tests
To help confirm a diagnosis of liver disease or to help specify the underlying cause, your veterinary may rely on various imaging techniques. Abdominal X-rays may show an enlarged liver or displaced kidneys. Chest X-rays can show heart and lung involvement and if liver cancer is present, determine whether the cancer has spread to the lungs. Ultrasound can further define the contours of the liver or the presence of other diseases. Ultrasound with a guided needle can perform a noninvasive biopsy of the liver to determine the presence of cancer.