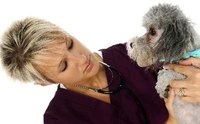 Feeding your puppy a balanced diet is essential to his health and well-being. Many people tend to overfeed their puppies in the hopes of promoting growth. They're unaware that overfeeding can trigger the development of various medical conditions such as hip dysplasia and osteochondrosis. To avoid having to deal with these conditions, monitor your pup's weight and feed him measured amounts of food according to your veterinarian's instructions.
Weight Problems
Just like people, eating too many calories can result in weight gain in puppies. Giving your dog companion too many treats, allowing him to nibble on food all day long and feeding him an inappropriate diet that includes cookies and ice cream can result in weight gain. Additionally, overeating increases your puppy's fat cell production. These cells remain with him forever and can lead to weight problems in his adult years. To correct the problem, consult your veterinarian about adjusting the amount of calories you feed your puppy.
Hip Dysplasia
Hip dysplasia is a skeletal disorder that is common in large dog breeds. The condition is characterized by the malformation of the hip joints, which can ultimately stop them from functioning. Hip dysplasia in puppies commonly develops after the age of four months. The condition, which can cause pain and impair your dog's mobility, is caused by excess weight on the skeletal system. Treatment of hip dysplasia depends on its severity. Surgery, physical therapy and a change of diet may all be required.
Osteochondrosis
Osteochondrosis is characterized by a defective bone formation triggered by rapid growth. Your puppy may display symptoms of this condition as early as four months of age. Osteochondrosis is painful and puppy parents may notice their puppy limping or walking differently in an effort not to use the effected joint. Treatment of osteochondrosis may include surgery, exercise restriction, pain-relieving medications and dietary restriction.
Chronic Diarrhea
Overfeeding your puppy can trigger chronic diarrhea. Puppy parents can recognize this condition by the unformed, large stools their pet companion leaves behind. Chronic diarrhea can be treated by adjusting your puppy's diet -- provide him with the correct amount of calories spread over three meals per day. Consult your veterinarian prior to making dietary changes or if the diarrhea has been consistent for more than three weeks.