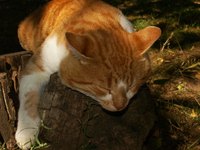 Diarrhea and constipation in cats can be the result of dietary deficiencies or of a lack of exercise, or they may be symptomatic of a more serious underlying problem. Although not uncommon, cat bowel movement problems should not be ignored. Seek veterinary advice and diagnosis if the problem persists for more than a few days. Happy, healthy cats have about one bowel movement a day. It is not particularly runny, overly hard or foul smelling.
Causes of Diarrhea
Diarrhea is an intestinal disorder caused by worms, bacteria, contaminated or spoiled food, gorging and overeating, indigestible materials, bone fragments, hyperthyroidism, colitis, virus infections and food sensitivities. Introduce a new diet gradually, as you can cause diarrhea by switching your cat's food suddenly. Cow's milk and other dairy products may produce diarrhea in lactose-intolerant cats, which are common. Characterized by frequent, soft bowel movements with abnormal fluidity, diarrhea is the body's response to irritants thereby increasing bowel contractions to flush the invasive elements from its system. Moving the intestinal contents along so quickly bypasses the colon's usual water-absorption function, producing a movement that is fluid.
Treatment of Diarrhea
It is helpful to determine a reason for an acute bout of diarrhea in your cat so you can prevent further episodes and rule out an underlying health issues. If, after 24 to 48 hours of a solid-food fast, diarrhea persists, seek the advice of your veterinarian, who may provide immediate treatment to alleviate your cat's discomfort or diagnose another health issue and treat accordingly. Dehydration may occur with excessive diarrhea, so provide plenty of water during the fast and encourage your cat to drink often. Chronic diarrhea is characterized by a persistent diarrhea, usually over the course of weeks, and intermittent diarrhea is when the disorder stops briefly yet appears again in a few weeks. It is important in all cases to confirm a diagnosis through a fecal flotation, then proceed with veterinarian-prescribed treatment.
Causes of Constipation
Constipation in cats is characterized by ineffectual straining to produce only small, dry bowel movements or no stools at all; or a pattern of producing hard, dry stools infrequently. Often, when a cat has chronic constipation, he will begin eliminating outside of the litter box, almost as if to show you he has a problem. Constipation can be occasional, due to lack of exercise, insufficient bulk in the diet, or aversion to a dirty litter box.
Constipation Caused by Aluminum
A weak rectum is the underlying problem in a form of chronic constipation that is characterized by the cat straining and producing sticky, messy stools rather than the hard stools seen in other forms of constipation. When a weak rectum is suspected, there is the possibility of aluminum poisoning. In this case, discontinue the use of aluminum pots to cook any home-prepared cat meals in, or aluminum dishes in which you feed or provide water for your cat. Always seek veterinary advice, diagnosis and treatment for this more complex constipation disorder.
Treatment of Occasional Constipation
Relatively simple cases of constipation can easily be remedied by modifying the diet, usually by the addition of fresh vegetables. A natural diet composed of raw meat, known to be a natural laxative for cats and dogs, is often recommended by homeopathic veterinarians. However, in the case of chronic constipation that is not alleviated by dietary modifications, a visit to your veterinarian may be necessary.