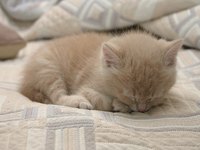 Because kittens under 4 weeks old do not have the ability to regulate their body temperatures, they can easily become chilled. Low body temperature in a kitten causes lethargy and weakness. This condition, if not addressed, can be fatal. Monitor the temperature of your kitten or litter of kittens, keeping each of them warm to ensure they grow up happy and healthy.
Environment
A newborn kitten requires a warm, moist environment, kept to approximately 85 to 90 degrees Fahrenheit, according to the PetEducation website. The mother usually provides this warmth as she allows her litter of kittens to snuggle up to her body for warmth. If the mother is not available, provide the kitten with a cardboard nesting box lined with a heating pad that you have wrapped in a towel. Leave enough space in the box for the kitten to move away from the pad to avoid becoming overheated. Cover part of the box with a moist towel to raise the humidity level.
Hypothermia
The most common cause of low body temperature, weakness and lethargy in kittens is hypothermia from a lack of sufficient heat. Without a mother cat, a heating pad, a hot water bottle or a heat lamp to provide warmth, the kitten's body temperature could easily drop to a dangerously low level. If a kitten's rectal temperature is below 94 degrees Fahrenheit, the kitten has become hypothermic. To save it, provide warmth immediately and take it to a veterinarian for care, the Messy Beast website advises. Warm the kitten gradually, over several hours. Warming the kitten suddenly can cause heart failure. A hypothermic kitten will cry consistently until its body temperature drops too low, at which point it will become listless and silent, near death.
Warming
A kitten whose temperature has dropped to dangerously low levels will have pale gums due to poor circulation and low blood pressure, causing listlessness. To warm the kitten, wrap it in a towel with only its face uncovered and place it on a heating pad or hot water bottle filled with warm, not boiling, water. In severe cases, a vet must administer warm intravenous fluids to warm the kitten from the inside out. Once the kitten's temperature is at least slightly above 95 degrees Fahrenheit, you can give it a warm electrolyte replacement solution.
Warnings and Considerations
Never feed a hypothermic kitten normal formula. Because its circulation has been impaired, its digestive system is unable to handle such food, and feeding it can cause death. Monitor the temperature of the kitten's nesting box with a thermometer to keep track of the temperature of her environment. Some serious congenital defects can cause conditions such as hydrocephalus, which involves the buildup of cerebrospinal fluid in the brain. Hydrocephalus can be a possible cause of hypothermia and listlessness. For a proper diagnosis, consult with an experienced veterinarian. Observe the kittens' mother to see if she is ignoring any of her litter, as these kittens are more prone to hypothermia and may require separate care to ensure their survival.