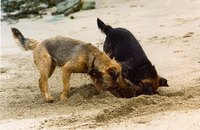 If your dog is content, laid back and carefree, consider yourself fortunate. Many dog owners are faced with the challenges of living with a neurotic dog, facing problem behavior such as destruction, aggression, pacing, separation anxiety, sensitivity to sounds or extreme fear of ordinary objects. Sadly, many of these dogs are surrendered to shelters, where they may never get a shot at being adopted. Working to modify your dog's neurotic behavior is an investment of time and love that can pay off with a calm and more content pet.
Neurotic Behaviors
Salivating, rapid breathing or pacing are signs that your dog may be suffering from neurosis. He may also be extremely defensive and aggressive when introduced to new sounds, smells, people or objects. He may destroy items at your house when you leave him for the day, or be so noise phobic that he panics or jumps out of a window at the sound of thunder or fireworks. Dogs also exhibit compulsive-obsessive behavior, such as being fixated on an object or digging incessantly out of frustration. Less common neuroses include overeating, drinking copious amounts of water without physical cause or compulsive licking, according to the Merck Veterinary Manual.
Exercise and Stimulation
A young and healthy pup should get 20 to 30 minutes of robust exercise each day, which increases the production of serotonin in the brain and helps relax and boost the mood of aggressive or fearful dogs, according to the Animal Behavior Clinic at the Tufts Cummings School of Veterinary Medicine. Go for a vigorous hike or jog with your dog; engage in a game of fetch or even let your dog swim for a half an hour each day. This type of activity tires your dog out. Dogs also benefit from the mental stimulation involved in training. Use positive training methods -- such as treats and lots of praise -- to reward good behavior. Use the commands frequently and consistently.
Health and Medication
Take your dog to the vet to rule out any physical cause of neurotic behavior. An imbalanced thyroid can cause extreme nervousness, while a brain tumor or hydrocephalus could cause your dog to exhibit strange behavior. Ask your vet about medication, which can help alleviate aggression or neurotic behavior. Drugs such as Reconcile and Clomicalm have been approved for use by the U.S. Food and Drug Administration. Using these drugs in conjunction with behavior modification and training can make a significant difference in your dog's behavior, according to the website Vetinfo.com.
Socialization
Socialize, socialize, socialize. Many common dog behavior problems are rooted in lack of socialization as a young pup. When dogs are left alone for long periods of time without companionship, they become unhappy, which can manifest in destructive digging, barking or damaging household property. The dog isn't trying to be vengeful or make his owner angry; he's simply acting out nervous or aggressive energy or fear that his owner has left him. If you must leave your dog for long periods of time, consider taking him to doggie daycare for interaction or schedule play time with other dogs. Invest in a crate or keep your dog confined to a small space in the house for short periods of time to minimize any damage from neurotic behavior and to give the dog a sense of calm.
Desensitization and Behavior Modification
Desensitization techniques can be effective in reducing neurosis in your dog, with the help of an animal behaviorist or a book on the subject. Introduce the fear -- whether it's a noise or an object -- to the dog at a low level of intensity. If the dog remains calm, reward that behavior with a treat or praise, and continue exposure and reward until the dog understands that he's not threatened. Behavior that relates to separation anxiety is usually the worst within the first few minutes you leave the house, although the dog can become hyperactive as you're getting ready to leave. Use a technique called "timed departure," in which you get ready to leave, pick up your keys and walk out the door. Begin with a one- or two-minute departure, then return and act as if nothing is out of the ordinary. The dog will see that you aren't abandoning him; that you will return. Build up to increasingly longer periods of time away from the home.