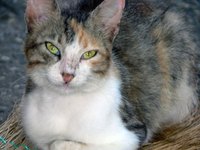 Dermal cysts refer to any number of skin bumps on a feline. If you find such a bump on your cat, take him to the veterinarian for an examination and diagnosis of the cyst type. Removal and treatment is generally straightforward. While most cysts can't be prevented, there are simple measures you can take to avoid formation of certain types of cysts.
Causes
Dermal cysts result from various causes, with treatment depending on the type of cyst. A foreign body trapped in the skin may cause a cyst to form, as can a clogged oil duct. Some cysts form clusters. Others are hereditary, while rare congenital dermoid cysts are present from the kitten's birth. Injury or trauma may cause cyst formation. Thin cats or those with immune system problems may be more likely to develop cysts.
Types of Cysts
The most common type found in felines, sebaceous cysts occur anywhere on the body and may grow to 1 inch or more. These cysts fill with sebum, much like the pus found in human acne. Since it is infected, drainage is necessary. Found in hair follicles, follicular cysts retain fluid, while pilar cysts contain hair follicle material. Keratinous cysts contain a smelly, cheese-like substance. To prevent recurrence, the vet may remove the cyst lining.
Removal
It's not always necessary to remove a cyst. Your vet may determine that a small cyst that isn't bothering the cat can be left alone. Cysts may sometimes disappear on their own, given time. While most dermal cysts don't cause pain, infected cysts hurt the cat and the infection must be drained. With certain lumps, the vet may want to perform a biopsy to see if it is a cyst or abscess or an actual tumor. In many cases, the vet recognizes the type of cyst and removes it on the spot.
Detection and Prevention
Know your cat's body, so if a lump appears, whether a cyst or tumor, have a vet examine the cat as soon as possible. When petting your cat, make it a habit to gently feel all over to detect any bumps. Take note if a small bump becomes larger. Also examine your cat's mouth, chin and eyelids, common areas for sebaceous cyst formation. Sebaceous cysts around the mouth and chin look like blackheads and are referred to as "feline acne." To avoid these types of cysts, don't use plastic feeding bowls and keep feeding dishes clean.