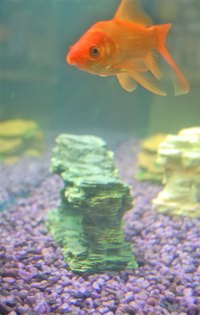 The red cap oranda goldfish -- Carassius auratus auratus -- is one of the most popular goldfish in the world. Red caps were first seen in 1500 A.D., roughly 800 years after the first goldfish was raised in captivity. The most distinctive feature (and namesake) of the red cap oranda is the raspberry-like head protrusion above the eyes, or wen. Prized for their lifespan and coloration, red cap orandas require advanced care in the home aquarium.
Identification
With the exception of the wen, red cap orandas are silver with shiny, iridescent scales. Although related to the common goldfish, red capped goldfish are rounder and egg-shaped. Each fin is paired, with the exception of the tail fin, which is usually split in two. When the red cap goldfish stops swimming, the tail fin fans out in the water. The wen, which begins to grow at 3 to 4 months, stands out as the most distinctive feature.
Growth Rate
Red cap oranda goldfish reach adulthood in approximately 2 to 2 1/2 years. The maximum length in adulthood is 6 to 7 inches, although exceptions have been recorded. In Hong Kong's TungHoi Aquarium, a red cap named Bruce holds the record at 15 inches long. To increase the growth potential of a red cap oranda, upgrade to a larger tank when the redcap reaches adulthood. You can also reduce the number of fish in the tank to increase the oxygen level. If the tank is too small or overcrowded, growth stunts may occur.
Wen Growth and Lifespan
At around 3 or 4 months of age, the wen emerges on a red cap oranda. Between 1 and 2 years of age, the wen undergoes more significant growth. By 2 to 2 1/2 years, the wen is fully formed. In optimal conditions, red cap goldfish will live for 20 or more years. The average lifespan for a redcap is 10 to 15 years.
Care
Although popular and inexpensive, red caps are not beginner-level goldfish. Red cap goldfish need a tank in the 20 to 30 gallon range and an additional 10 gallons for each additional fish. Redcap orandas are vulnerable to pollution and require weekly water changes. Water temperature must range between 64 and 72 degrees Fahrenheit and pH levels should be in the range of 6.0 to 8.0. Redcap orandas prefer fresh, frozen or flake foods, as well as live plant life in the aquarium.