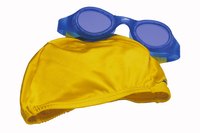 Dreadlocks make up a thick hairstyle consisting of individual strands of hair locked together to form larger strands. For people with dreadlocks, a swimming cap is a useful accessory for protecting your hairstyle in the water. No swimming cap is 100 percent waterproof, but these thin caps keep dreadlocks out your face and out of the water.
Sizes
Dreadlocks come in all lengths and thicknesses, from thin slender locks to large, thick and long dreads. It is important to choose a swimming cap that is one to two sizes larger your normal size. This is to account for the amount of hair that needs to fit under the cap. Caps that are too tight cut off circulation, and if the cap is too loose you run the risk of it slipping and falling off, especially if the cap is made of lycra. Choosing a swimming cap is a process of trial and error. It may take several tries before you find the one that fits just right.
Protecting Your Hairstyle
Swimming caps provide a barrier between your dreadlocks and water. In a pool, a swimming cap prevents chemicals, such as chlorine, from getting into your hair. While chlorine is not particularly harmful to dreadlocks, the locked hairstyle will likely take on the smell of the chemicals. Saltwater can actually help dreadlocks form faster. However, if your dreads are fully formed, a swimming cap keeps the ends of your locks from dipping into the water. Dreadlocks are particularly challenging to dry. People with newly forming dreads find that getting the hairstyle wet loosens the locks. Swimming caps are highly recommended for people with newly forming locks, according to PerfectDreadlocks.com.
Avoiding Mold
Potential problems with getting dreadlocks wet include mold and mildew. If your dreadlocks are not allowed to dry thoroughly, your locks run the risk of mold and mildew growing inside them. If you swim often, a swimming cap protects your locks from getting unnecessarily wet. Wile swim caps keep your locks from dipping into the water, they are not entirely waterproof. To keep your locks completely dry when swimming, do not submerge your head under the water.
Considerations
To increase the waterproof ability of swimming caps, you can wear two swimming caps at once. This still does not guarantee waterproofing, but wearing two caps does stop more water from reaching your hair. If you choose this method, find one swim cap that is snug and another that is a little more loose. Wearing two swimming caps is uncomfortable if you choose caps that are too tight, especially if your dreads are very thick and there is a lot of hair to tuck under the cap.