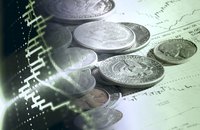 Every investor has his own strategy when it comes to investing his money. For some, carry trades offer a relatively simple means for increasing profitability. The term "carry trade" refers to the act of signing up for low-interest loans -- or selling low-interest investments -- to use the money to invest in something else with a high rate of return. If you are worried about the risk involved, however, hedging your carry trades is always an option.
Hedging
You may have heard the phrase "hedging" in passing investment discussions, but it's important to fully understand what hedging is so you can determine whether this strategy is appropriate for you and your investments. Hedging is an investment management process based in risk. It follows the same concept as putting all of your eggs in one basket. When you invest all of your allocated investment monies into one company, you take on a fair amount of risk because if anything happens to that company, you will lose all of your money. Hedging involves dividing the funds so that you invest in the industry, per se, by spreading out your eggs from one basket to several. In the end, you own shares in various companies as opposed to only one, which helps shield you from market downturns.
Carry Trades
Any type of investment is risky, but carry trades take on considerable risk given the nature of the strategy. People who invest in carry trades are looking to grow their garden of money aggressively, which is why carry trades involve going from a low-interest point to a high interest point. This can mean positive rewards for the investor if proper time, patience and investments are allocated. But a carry trade that doesn't perform the way the investor intended means that the investor will not be profitable with this investment and may owe money to her lender with the low interest point.
Decision-Making
Deciding whether or not to hedge a carry trade is a delicate process that requires analysis of the market as a whole, the economy, the industry that you invested in and the actual shares of the stock that you own. Hedging can work out in your favor if you own carry trades and want to diversify your portfolio by purchasing more high-interest investments with some of the money that you get for selling back other shares. For instance, if you hold a carry trade with an investment that offers 6 percent interest and another opportunity comes along that offers you 10 percent interest, you can hedge your carry trade by taking out some of your money from the original 6 percent investment and applying it toward the new opportunity. Now, you have a couple of different investments working for you, given they perform the way you predicted them to.
Process
The process of hedging a carry trade is something that some investors can do on their own through their own investment accounts, or they can call on their broker to perform the hedge. One of the things to consider before you hedge a carry trade is whether or not you will be penalized for pulling money out of one investment, such as with fees, taxes or other charges. Consider these penalties to determine the worth and value of the investment. The transaction can involve selling your shares back to the company, retracting your money and then reinvesting, or you might be able to roll over the money into the new investment, depending on the types of shares you hold.